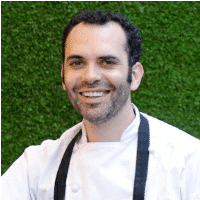 Dominique Ansel
Does Virtual Events:
TV Show: No
Cookbook: Yes
Restaurant: Yes
Cuisine: Desserts and Pastry
Fee Range: $20,000 – $50,000

Instrgram Followers:

TikTok Followers:
Biography:
Celebrity Chef and owner of his own well-known bakery Dominique Ansel's claim to fame is the creation of the cronut, a very popular dessert crossing a croissant and doughnut that burst on to the scene in 2013. The cronut has received attention world wide and has been featured on Good Morning America, the Today Show, ABC's The Chew, Inside Edition, Fox & Friends, Live with Kelly and Michael, CNN's Piers Morgan Live with Anthony Bourdain, E! News, and Late Night with Jimmy Fallon. Time Magazine named it one of the 25 Best Inventions of 2013.  Celebirty Chef Speaker Dominique has also invented other culinary creations such as the Frozen S'more and Magic Soufflé, which have also gained international intention.  These dessert creations earned him the title as the "Willy Wonka of NYC" by The New York Post.
In addition to his creations, the Dominique Ansel Bakery has also seen much success. Just four months after opening its doors, the bakery was awarded Time Out New York's Best New Bakery of 2012 and Metromix's Best Bakery of 2012. As a result of his quick success and rise to fame, Dominique was named one of Business Insider's Most Innovative People Under 40 in 2013.  The James Beard Foundation nominated him as a finalist for the Outstanding Pastry Chef award, and he was named one of the Top 10 Pastry Chefs in the United States by Dessert Professional magazine. He was also called the "most feted pastry chef in the world" by the Daily Mail UK, and was deemed one of the Top 10 Pastry Chefs You Need to Know by Time Out New York.
Chef Ansel is a annual supporter of the fight to end hunger with the Food Bank of New York City.  In 2013, he launched a series of campaigns for the fight to end hunger that increased Food Bank search engine awareness and raised thousands of dollars for the cause.  His first cookbook Dominique Ansel: The Secret Recipes (working title) will be released in October 2014.
Cooking demonstrations, endorsements, personal appearances, PR campaigns, speaking engagements, hire, book, we represent, contact, find celebrities, chefs and agents for Dominique Ansel. If you want to find the representation, PR firm, marketing company, corporate consulting, speaking agent, to book or hire Dominique Ansel, Celebrity Chef Network is the agency of corporate consulting for your program. Our booking agents are the best in the business for consulting companies, agencies and universities in finding fees, availability and interest for celebrity chefs like Dominique Ansel for any type of event, appearance, speaking engagement, endorsement, corporate event, motivational speech, PR campaigns, etc. Call Celebrity Chef Network at 212-410-9879 or email booking@celebritychefnetwork.com.  Our booking agents are here to help you hire your Celebrity Chef now.