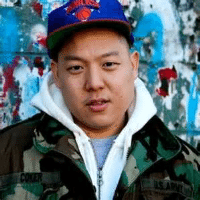 Eddie Huang
Does Virtual Events:
TV Show: Yes
Cookbook: No
Restaurant: Yes
Cuisine: Asian
Fee Range: $10,000 – $20,000

Instrgram Followers:

TikTok Followers:
Biography:
Chef and restaurateur Eddie Huang is the co-owner of BaoHaus, a Taiwanese bun shop and restaurant located in East Village New York. Eddie is redefining foodie culture with his brash and hip new approach to food and his recent memoir published in 2013 titled Fresh off  the Boat details his assimilation into American culture as an Asian-American.
Eddie grew up watching his mother cook and his father ran and owned a successful line of steak and seafood restaurants which instilled the knowledge to one day open his own successful venture in New York. While still working his way to the top, Eddie appeared on a Food Network show called Ultimate Recipe Showdown which was then hosted by culinary legend Guy Fieri. Although Huang came up just short in winning the show, he was able to learn valuable lessons about his self and the business throughout the process and gained a new fan in Fieri. The success on the show inspired Eddie to open his own restaurant in 2009, and within a few years, the restaurant that had started with less than 5 menu items had grown into a full menu heralded eatery.
The ex-lawyer and comedian turned restaurateur gained more notoriety when he began hosting a Cooking Channel show called Cheap Bites in 2011 and also appeared on several episodes of the network's series Unique Eats. After his success on the Cooking Channel, Eddie began working with Vice Media on his own segment called Fresh off the Boat, an online Vice series about a family growing up and searching for the "American Dream" in Chinese Orlando. The series has now been picked up by ABC and has already completed its first 2 seasons. He has written articles for the New York Times as well appeared as a TED Talk Speaker. He loves the American hip-hop culture and self identifies with it along with his own native culture. Eddie has also been working on a snack series which is set to premiere on MTV in 2014.
Cooking demonstrations, endorsements, personal appearances, PR campaigns, speaking engagements, hire, book, we represent, contact, find celebrities, chefs and agents for Eddie Huang. If you want to find the representation, PR firm, marketing company, corporate consulting, speaking agent, to book or hire Eddie Huang, Celebrity Chef Network is the agency of corporate consulting for your program. Our booking agents are the best in the business for consulting companies, agencies and universities in finding fees, availability and interest for celebrity chefs like Eddie Huang for any type of event, appearance, speaking engagement, endorsement, corporate event, motivational speech, PR campaigns, etc. Call Celebrity Chef Network at 212-410-9879 or email booking@celebritychefnetwork.com.  Our booking agents are here to help you hire your Celebrity Chef now.