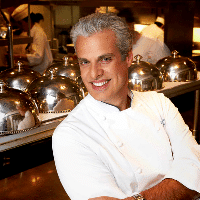 Eric Ripert
Does Virtual Events:
TV Show: No
Cookbook: Yes
Restaurant: Yes
Cuisine: Classical French
Fee Range: $20,000 – $50,000

Instrgram Followers:

TikTok Followers:
Biography:
French chef, author, and TV personality Eric Ripert is renowned in the culinary world for his delectable French cuisine and seafood dishes. He currently co-owns and operates the restaurant La Bernardin in New York City, the #18 restaurant on the S. Pellegrino World's 50 Best Restaurants list. New York Times has given the restaurant 4 stars for the last 2 decades and it was awarded 3 stars from the Michelin Guide. He also owns 3 restaurants in conjunction with the Ritz Carlton the restaurant Blue located at the Ritz Carlton Grand Cayman in the Cayman Islands, Westend bistro in Washington, DC and 10 Arts Bistro in Philadelphia.
Celebrity Chef Speaker Eric became the executive chef of La Bernardin in 1994 and the restaurant as well as Eric are well known for their superb seafood dishes. While operating the restaurant Eric also serves as the chairman of the City Harvest Food Council that raises money and joins with community food operations to provide food for those going hungry and living in poverty in New York City. Eric has made appearances on multiple TV shows including guest judge on Bravo's Top Chef, as well as appearing in his good friend Anthony Bourdain's travel and food show on the Travel channel, No Reservations. Eric's own PBS TV show Avec Eric began airing in 2009 and follows him around the world to find inspiration and cook new and exciting dishes from around the world.
After opening Blue in the Cayman Islands, Eric decided to start hosting his annual Cayman Cookout that invites the world's top chefs to the Ritz Carlton Grand Cayman and surrounding attractions for a weekend culinary spectacular.  Fans of the celebrity chefs can get tickets and have a chance to mingle with the chefs during a weekend full of cooking demonstrations, tastings, and seminars.
Cooking demonstrations, endorsements, personal appearances, PR campaigns, speaking engagements, hire, book, we represent, contact, find celebrities, chefs and agents for Eric Ripert. If you want to find the representation, PR firm, marketing company, corporate consulting, speaking agent, to book or hire Eric Ripert, Celebrity Chef Network is the agency of corporate consulting for your program. Our booking agents are the best in the business for consulting companies, agencies and universities in finding fees, availability and interest for celebrity chefs like Eric Ripert for any type of event, appearance, speaking engagement, endorsement, corporate event, motivational speech, PR campaigns, etc. Call Celebrity Chef Network at 212-410-9879 or email booking@celebritychefnetwork.com.  Our booking agents are here to help you hire your Celebrity Chef now.