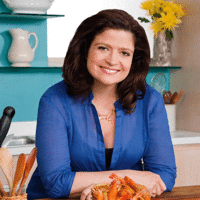 Alex Guarnaschelli
Does Virtual Events:
TV Show: No
Cookbook: Yes
Restaurant: Yes
Cuisine: American
Fee Range: $20,000 – $50,000

Instrgram Followers: 509.5K

TikTok Followers:
Biography:
Executive chef at Butter and owner of the award winning restaurant, Darby, in NYC, Alex Guarnaschelli is a unique American chef. She is a Food Network star, winning Iron Chef in 2012 and serving as a judge for both Iron Chef and Chopped. In addition, Alex is pursuing success as a cookbook author and caterer for corporate and private events. With a worldwide following, Guarnaschelli is quickly growing her culinary empire and is a highly popular chef for hire.
Daughter of cookbook author Maria Guarnaschelli, Alex was influenced at an early age by a wide variety of flavors and cuisines. Knowing she wanted to pursue her love for food, Guarnaschelli pursued an internship with acclaimed American chef Larry Forgione immediately after college. After this, Alex left for France to study at La Varenne Culinary School in Burgundy. Finally, Guarnaschelli achieved success as sous chef at La Butte Chaillot. This would an an impressive ascension to success for any chef, but is an especially notable position for a woman. 
Since then, Guarnaschelli has worked at several acclaimed restaurants including Patina in Los Angeles and now holds the position of executive chef at Butter in NYC. Here is where she claims to have really honed her unique cooking style. Butter's menu displays Guarnaschelli's passion for American cuisine and fresh seasonal ingredients. This same passion is what makes her restaurant Darby such a success. Likewise it what makes cookbooks, Old-School Comfort Food and The Home Cook, so popular. 
Off the Food Network set, Guarnaschelli makes frequent television appearances. This includes visits to the Good Morning America Kitchen. Using her platform as a way to rep her favorite brands, she endorses Miele cooking appliances. Fabulous for live cooking demos, you are in for a treat when you hire Alex Guarnaschelli. Collaborating with culinary mastermind, Gilles Epié, Alex joins the American Airlines sponsored, Food Network and Cooking Channel SOBEWFF. This foodie event hosts over 60,000 guests and raises upwards of $28 million benefiting FIU. Similarly, she works with travel agency Zicasso to perform cooking demos on a nine-day food tour through Italy.
Would your organization like to hire Alex Guarnaschelli for your upcoming event or marketing campaign? Let a qualified celebrity chef booking agent help find the perfect celebrity chef for you! A celebrity chef speaker can create a dynamic event and add energy and excitement to your event. Celebrity chef appearances can consist of a cooking demonstration, personal appearances or a keynote speech.  If you would like to hire Alex Guarnaschelli or are interested in exploring other celebrity chefs please call Celebrity Chef Network at 212-410-9879 or email booking@celebritychefnetwork.com to speak with a celebrity chef agent to discuss top celebrity chefs available for your organization and event.