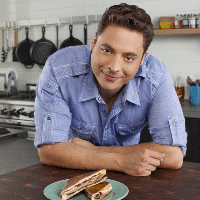 Jeff Mauro
Does Virtual Events:
TV Show: Yes
Cookbook: No
Restaurant: No
Cuisine: American
Fee Range: $20,000 – $50,000

Instrgram Followers:

TikTok Followers:
Biography: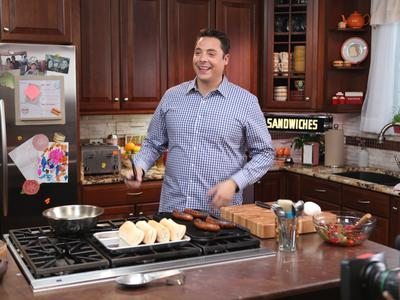 Hire Jeff Mauro through Celebrity Chef Network. Booking a celebrity chef requires an expert team. Let the booking agents at Celebrity Chef Network help you hire the best one for your brand or event. To contact Celebrity Chef Network, call 212-410-9879 or email booking@celebritychefnetwork.com.
Jeff Mauro was born and raised in Elmwood Park, Illinois just outside of Chicago. Living in Chicago for the last several years, Jeff became a big believer in the power of sandwiches. By combining ethnic ingredients with a variety of seasoning, he became one of the finest sandwich chefs in Chicago. After spending years in the Windy City, Jeff decided that we wanted to improve on his acting career as well as his cooking career and moved out to Los Angeles, where created a show known as "Chef Jeff & Ali". When the program flopped, Jeff moved back to Chicago, where he finally found his fame.
In 2005, Jeff landed a spot on "The Next Food Network Star" which would help launch his cooking career and set him up for success. When he won that season, he became the host of the Food Network's "Sandwich King", which officially launched in 2011.
Today, you can find Jeff all over the Food Network. There he takes the talents that he became known for, making sandwiches, and shows that any meal can be made into a sandwich, and vice versa. You'll find that a lot of the style that Jeff has in his cooking and making of masterpiece sandwiches goes right back to his roots in Chicago. Essentially, if any meal can be handheld, Jeff could find a way to classify it as a sandwich.
If you want to hire Jeff Mauro, you'll be amazed at what he can do. For foodies, he has become a staple in the sandwich world, and has revolutionized how to make a tasty sandwich no matter how elegant or old your crowd is. Throughout his career, Jeff has never focused on any other food outside of sandwiches, so when you're looking to stun your crowd with this kind of cooking, then Jeff Mauro is clearly you choice for your next celebrity appearance.
To hire Jeff Mauro for an endorsement, personal appearances, or book signing contact the experts at Celebrity Chef Network at booking@celebritychefnetwork.com  or 212-410-9879.