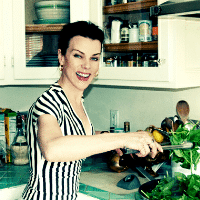 Debi Mazar
Does Virtual Events:
TV Show: Yes
Cookbook: No
Restaurant: No
Cuisine: Celebrities in Food, Italian
Fee Range: $20,000 – $50,000

Instrgram Followers:

TikTok Followers:
Biography:
Debi Mazar, an American Actress and newly minted TV food star, is known for her outgoing personality in roles showing her wit and thick northern, jersey-like accent. She is widely recognized for her role as Vinny Chase's public relations Agent in the HBO Series Entourage with famous celebrity actors Adrian Grenier, Jeremy Piven, and Kevin Connolly.
Celebrity Chef Debi Mazar came on to the culinary scene in 2007 when she and her husband, Tuscany native Gabriele Corcos, started their popular blog and website Under the Tuscan Gun. The site features internet cooking shows, recipes, and even a store where you can order hard-to-find, true Tuscan ingredients. Their online series spurred the idea for their new television cooking show, Extra Virgin, which was booked and premiered in 2011 on the Cooking Channel. In its second season, the show takes place in Debi Mazar's home where she and Corcos invite viewers in to share their family's love for Tuscan food and cooking heart-felt Italian cuisine.
Mazar is passionate about bringing attention to poverty around the world, which causes hunger for over a billion people every day. She has gone periods of time surviving solely on what $1.50 could buy, the amount so many people are forced live off of. Her support for the cause is a huge part of her culinary career as she continues to raise awareness through blogging and personal appearances.
Cooking demonstrations, endorsements, personal appearances, PR campaigns, speaking engagements, hire, book, we represent, contact, find celebrities, chefs and agents for Debi Mazar. If you want to find the representation, PR firm, marketing company, corporate consulting, speaking agent, to book or hire Debi Mazar, Celebrity Chef Network is the agency of corporate consulting for your program. Our booking agents are the best in the business for consulting companies, agencies and universities in finding fees, availability and interest for celebrity chefs like Debi Mazar for any type of event, appearance, speaking engagement, endorsement, corporate event, motivational speech, PR campaigns, etc. Call Celebrity Chef Network at 212-410-9879 or email booking@celebritychefnetwork.com.  Our booking agents are here to help you hire your Celebrity Chef now.