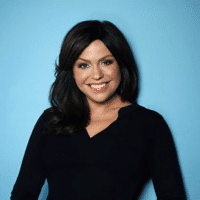 Rachael Ray
Does Virtual Events:
TV Show: Yes
Cookbook: Yes
Restaurant: No
Cuisine: American, Celebrities in Food, Italian
Fee Range: $100,000+

Instrgram Followers:

TikTok Followers:
Biography:
Rachael Ray's first television show stemmed from a local food shop in Schenectady, where she created the 30 Minute Meals class that would eventually get her a local news show segment. Her show would eventually get noticed by the higher-ups at the Food Network, and Rachael found herself with 4 popular shows on the largest cooking channel on TV, including "$40 a Day," "Inside Dish", and "Rachael Ray's Tasty Travels". As a result, she's received four Daytime Emmy Award nominations and three Daytime Emmy Awards, ousting celebrities like Ellen DeGeneres and Dr. Mehmet Oz in her categories.
As a famous television personality, businesswoman, celebrity cook and author, she currently now hosts her own program on ABC Rachael Ray. In addition, she has done several product endorsements including being a spokeswoman for Nabisco crackers. She appears in commercials and includes recipes on the cracker boxes. She has also worked with WestPoint Home to launch a sheets, blankets, and coverlets designed by Ray.  Other endorsements include Dunkin' Donuts and AT&T.
She has also published a handful of New York Times Bestselling cookbooks and currently owns a lifestyle magazine called Every Day with Rachael Ray, which revisits some of her most famous recipes. Her more than 20 publications have earned her best-seller awards several times, and her most recent works from 2012 are "My Year in Meals", and "The Book of the Burger".
While Rachael doesn't do personal cooking demonstrations, she makes a great speaker at any event. Contact us today to learn how you can hire the world-famous celebrity chef for your next private or corporate event.
Cooking demonstrations, endorsements, personal appearances, PR campaigns, speaking engagements, hire, book, we represent, contact, find celebrities, chefs and agents for Rachael Ray. If you want to find the representation, PR firm, marketing company, corporate consulting, speaking agent, to book or hire Rachael Ray, Celebrity Chef Network is the agency of corporate consulting for your program. Our booking agents are the best in the business for consulting companies, agencies and universities in finding fees, availability and interest for celebrity chefs like Rachael Ray for any type of event, appearance, speaking engagement, endorsement, corporate event, motivational speech, PR campaigns, etc. Call Celebrity Chef Network at 212-410-9879 or email booking@celebritychefnetwork.com.  Our booking agents are here to help you hire your Celebrity Chef now.