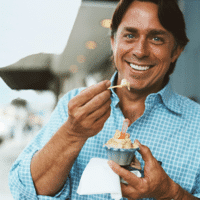 John Besh
Does Virtual Events:
TV Show: No
Cookbook: Yes
Restaurant: Yes
Cuisine: Cajun
Fee Range: $20,000 – $50,000

Instrgram Followers:

TikTok Followers:
Biography:
Hire John Besh through Celebrity Chef Network. Booking a celebrity chef requires an expert team. Let the booking agents at Celebrity Chef Network help you hire the best one for your brand or event. To contact Celebrity Chef Network, call 212-410-9879 or email booking@celebritychefnetwork.com.
NETWORKS: food network
SHOWS: chefs a'field, iconoclasts, food network challenge, iron chef America, the next iron chef, top chef, top chef masters, incedible to incredible
CHARITIES: New Orleans-based Make It Right Foundation.
BIO: Celebrity Chef John Besh is a chef and native of southern Louisiana. In each of his six restaurants (August, Besh Steak, Luke, La Provence, American Sector, and Domenica) John celebrates the culture and traditions of Louisiana.
Food & Wine named John Besh one of the Top 10 Best New Chefs in America and his restaurant August was featured on the Gourmet magazine's Guide to America's Best Restaurants, and America's Top 50 Restaurants.
The Times-Picayune and New Orleans City Business have commended all of his restaurants as they have all won the hearts of diners. In 2006, John Besh was awarded the James Beard Award for Best Chef of the Southeast, and Food Arts' Silver Spoon Award in 2009. Not only is he a guest chef on the Today Show but also has appeared on The Food Network and the Sundance Channel.
John Besh is also devoted to using local ingredients and cuisine. He created a catering group called Besh Restaurant Group Catering, and has a new line of gourmet products. In October 2009, John published his first cookbook, My New Orleans. John, who is also a former U.S. Marine, partnered with Baton Rouge-based emergency reconstruction specialists Arkel International, where he creates fast, ready-to-eat meals for emergency response teams in the U.S. and around the world. In appreciation of his contributions, Louisiana Restaurant Association named him Restaurateur of the Year in 2008. John has been recently spotted at the Atlanta Food and Wine Festival where he served a shrimp bisque demo and tequila shots.
When BP's oil started flowing in the Gulf of Mexico, John Besh spoke loudly for Louisiana fishing families and the threat to the delicate marshes that produce much of the region's oysters, crabs and shrimp. Because of this, he endorsed Propane. "I don't have anything against BP, I have something against the lack of leadership of all the companies and government involved," and he went on to say, "I also use gasoline in my car when I am driving around," he said. "I am not against the oil industry but I am all for people being responsible for their actions."
John is available for speaking engagements, cooking demonstrations and corporate hospitality.
APPEARANCES: Today Show, The Food Network, The Sundance Channel
ENDORSEMENTS: Propane Safety, Zatarain's
BOOKS: My New Orleans
WHO REPRESENTS JOHN BESH: Celebrity Chef John Besh can be hired for endorsements and events in roles such as culinary consultant, event planner, public speaker, autograph signings, cooking demonstrations, hosting, Mommy Blogger events, SMTS, public relation campaigns, team building events and corporate hospitality.
To hire John Besh for an endorsement, personal appearances, or book signing contact the experts at Celebrity Chef Network at booking@celebritychefnetwork.com  or 212-410-9879.