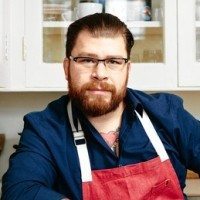 Jonathon Sawyer
Does Virtual Events:
TV Show: No
Cookbook: Yes
Restaurant: Yes
Cuisine: American, Classical French, Garden to Table, Italian
Fee Range: $20,000 – $50,000

Instrgram Followers: 36,111

TikTok Followers:
Biography:
Celebrity Chef Jonathon Sawyer is a crafty culinary personality based in Cleveland, Ohio. Jonathon owns and operates 4 foodie hotspots in the city and is also credited with opening the first pop-up restaurant group in Cleveland called Brick & Mortar Pop-Ups. In January of 2015, Jonathon released his first cookbook titled Noodle Kids: Around the World in 50 Fun, Healthy, Creative Recipes the Whole Family Can Cook Together. Just a few months later, he earned the title of 2015 Best Chef Great Lakes from the James Beard Foundation after being nominated for the award every year since 2012.
Jonathon attended the Pennsylvania Institute of Culinary Arts. Upon graduation, he worked at The Biltmore Hotel in Miami before earning a position at Charlie Palmer's Kitchen 22 in NYC. He would later link up with his friend and mentor Michael Symon to work as the executive chef at Symon's restaurant Parea. But Jonathon had dreams of opening his own restaurant and moved back to his hometown of Cleveland to bring his vision to life.
Since then, Celebrity Chef Jonathon Sawyer has helped revive the culinary scene in Cleveland with 4 highly-touted eateries including popular gastropub The Greenhouse Tavern, Noodlecat, Bar Cento and Trentina. Perhaps his most exciting ventures have been Sawyer's Street Frites at the Cleveland Brown's First Energy Stadium and SeeSaw Pretzel Shoppe at the Cleveland Cavaliers' Quicken Loans Arena.
Jonathon has since become a national culinary star and has appeared on several cooking competition series including Iron Chef America, Unique Eats and Dinner Impossible. In 2010, he received Food & Wine Magazine's Best New Chef Award.
Celebrity Chef Jonathon Sawyer is a big supporter of local ingredients and sustainable businesses. In 2011, Jonathon created the Tavern Vinegar Company. He ferments over 300 gallons of his own barrel-aged wine, beer and vinegars for his restaurants and individual sale.
Hire Celebrity Chef Jonathon Sawyer for Celebrity Chef cooking demonstrations, meet & greets, Celebrity Chef speaking engagements and other personal appearances.