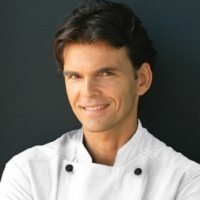 Matthew Kenney
Does Virtual Events:
TV Show: No
Cookbook: Yes
Restaurant: Yes
Cuisine: Garden to Table, Healthy, Organic, Vegan, Writer/Blogger
Fee Range: $20,000 – $50,000

Instrgram Followers: 17,806

TikTok Followers:
Biography:
Celebrity Chef Matthew Kenney is a celebrated member of the culinary community. Matthew has published 12 signature cookbooks to date and created his own company, Matthew Kenney Cuisine, which provides plant-based food services and products. He has also given 2 TEDxTalks in the past sharing his thoughts on the negative effects of processed foods and his ideas on how we should restructure the "Standard American Diet". Matthew advocates for a raw plant-based diet that he says can drastically improve your quality of life when coupled with a healthy lifestyle.
Celebrity Chef Matthew Kenney earned his culinary stripes in the early 1990's. After graduating from the French Culinary institute, he opened his first restaurant called Matthew's in 1993. He was named the Best New Chef in America by Food & Wine Magazine in 1994. He was twice nominated for the James Beard Award for Rising Star Chef in America in 1995 and 1996. As Matthew continued to establish himself in the New York food scene with a string of new eateries, he began to understand the importance of raw, organic and fresh ingredients.
In 2004, Matthew helped open Pure Food and Wine. This chic, vegan hotspot has twice been featured in New York Magazine's Top 100 Restaurants list in addition to regularly appearing on Forbes Magazine's list of All Star New York Eateries. In 2009, Celebrity Chef Matthew Kenney opened The Matthew Kenney Culinary Academy in Oklahoma City, Oklahoma but has now moved it to Venice, California. This was the first state licensed raw food educational center in the world. Food & Wine Magazine has touted his courses on the fundamentals of raw cuisine and advanced raw cuisine as one of the best cooking classes around the world in 2015.
Your business or organization can book Celebrity Chef Matthew Kenney for Celebrity Chef speaking engagements, cooking demonstrations or other Celebrity chef appearance opportunities.