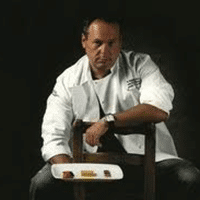 Michael Ginor
Does Virtual Events:
TV Show: Yes
Cookbook: No
Restaurant: Yes
Cuisine: American, Fusion
Fee Range: Under $10,000

Instrgram Followers:

TikTok Followers:
Biography:
Hire Michael Ginor through Celebrity Chef Network. Booking a celebrity chef requires an expert team. Let the booking agents at Celebrity Chef Network help you hire the best one for your brand or event. To contact Celebrity Chef Network, call 212-410-9879 or email booking@celebritychefnetwork.com.
CHARITIES: The James Beard Foundation, The Culinary Institute of American, New England Culinary Institute, Meals on Wheels, Share our Strength, The Robert Mondavi Master Chefs Program, The Television Food Netowrk, The Masters of Food and Wine, The St. Mortiz Food & Wine Festival, Singapore World Gourmet Summit and the Bangkok World Gourmet Festival
BIO: Celebrity Chef Michael Ginor is largely recognized for his work with Foie Gras, an ingredient considered one of the luxurious in the world. Chef Ginor is co-founder and Chef of Hudson Valley Foie Gras, the most comprehensive Foie Gras producer. Along with partner Izzy Yanay, Ginor was able to utilize scientific advanced production techniques to modernize the ancient delicacy. Foie Gras production is now a unified, controlled and consistent operation based on nature, nurture and technology.
Prior to becoming a chef, Michale Ginor graduated from Brandeis University and received his MBA from New York University. He spent four years on Wall Street and then decided to make a life-altering change. Ginor decided to join the Israeli Armed Forces where he served as a patrol-commanding Captain in the Gaza Strip and as the Israeli Defense Forces spokesperson. His time in Israel did help further his culinary career however as it was here that Ginor discovered the potential of modern-age Foie Gras processing. Today, Michael Ginor's Hudson Valley Foie Gras distributes its duck products through a network of ditstributors in the United States and beyond.
Hudson Valley Foie Gras has received numerous awards of excellence since its inception. Some of these awards include the 1993 Gold Merit Award from Chefs in America, the 1996 Award for Excellence from The James Beard Foundation, a Five Star Diamond Award from the American Academy of Hospitality Sciences in 1996 and the 1998 Award of Excellence from the American Tasting Institute. Personally, Chef Michael Ginor was the first Olive Branch Award recipient from the Jewish National Fund for humanitarian and professional achievements in 1996, was honored with the 1997 Angel Award from The James Beard Foundation and in 1998 he received the American Master Taster Award from the American Tasting Institute. Both Ginor and his partner, Izzy Yanay, have been inducted into the James Beard Foundation Who's Who of Food and Beverage.
In addition to his work at Hudson Valley Foie Gras, Chef Michale Ginor is also the founder of Culinary Brainwaves, a company that provides consulting to the gourmet food industry. More recently, Chef Ginor launched La Verdad, a casual Mexican Taqueria and restaurant, in Boston with Chef Ken Oringer. La Verdad has already been named "The Best Casual Mexican Restaurant in the US" by Bon Appetit Magazine and "One of the best 100 Restaurant in the US" by Food and Wine Magazine. Celebrity Chef Michael Ginor is available for speaking engagements, endorsements, and cooking demonstrations.
BOOKS: Foie Gras: A Passion
WHO REPRESENTS MICHAEL GINOR: Celebrity Chef Michael Ginor can be hired for endorsements and events in roles such as culinary consultant, event planner, public speaker, autograph signings, cooking demonstrations, hosting, Mommy Blogger events, SMTS, public relation campaigns, team building events and corporate hospitality.
To hire Michael Ginor for an endorsement, personal appearances, or book signing contact the experts at Celebrity Chef Network at booking@celebritychefnetwork.com  or 212-410-9879.