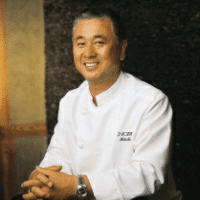 Nobuyuki Matsuhisa
Does Virtual Events:
TV Show: No
Cookbook: Yes
Restaurant: Yes
Cuisine: Asian, Fusion
Fee Range: $50,000 – $100,000

Instrgram Followers:

TikTok Followers:
Biography:
Hire Nobuyuki Matsuhisa through Celebrity Chef Network. Booking a celebrity chef requires an expert team. Let the booking agents at Celebrity Chef Network help you hire the best one for your brand or event. To contact Celebrity Chef Network, call 212-410-9879 or email booking@celebritychefnetwork.com.
BIO: Nobuyuki Matsuhisa began is cooking career after graduating from high school at Matsue Sushi in Shinjuki, Tokyo. After working here for seven years, Nobuyuki was invited by a Peruvian entrepreneur to help him open a Japanese restaurant in Peru. At 24, he moved to Peru and opened a restaurant. Not realizing all of the ingredients he took for granted in Tokyo, he found himself improvising with techniques, he developed his unique style of cuisine incorporating Southern American ingredients and Japanese delicacies.
In 1977, Nobuyuki Matsuhisa moved to Los Angeles after living in Buenos Aires and Alaska, where he opened his own restaurant called Matsuhisa on La Cienega Blvd. in Beverly Hills. A frequent diner, Robert De Niro invited Nobuyuki to open a restaurant in Tribeca, New York. In 1993, Robert De Niro and Nobuyuki Matsuhisa opened NOBU to critical acclaim. Later, Nobuyuki opened NOBU's in Milan, London, Greece, Dallas, Tokyo, Honolulu, Moscow, Dubai and Budapest. Nobuyuki is available for speaking engagements, endorsements and cooking demonstrations.
APPEARANCES: Casino, Austin Powers: Goldmember, Memoirs of a Geisha
BOOKS: Nobu West, Nobu: The Cookbook, Nobu Now, Nobu Miami: The Party Cookbook
WHO REPRESENTS NOBUYUKI MATSUHISA: Celebrity Chef Nobuyuki Matsuhisa can be hired for endorsements and events in roles such as culinary consultant, event planner, public speaker, autograph signings, cooking demonstrations, hosting, Mommy Blogger events, SMTS, public relation campaigns, team building events and corporate hospitality.
To hire Nobuyuki Matsuhisa for an endorsement, personal appearances, or book signing contact the experts at Celebrity Chef Network at booking@celebritychefnetwork.com  or 212-410-9879.