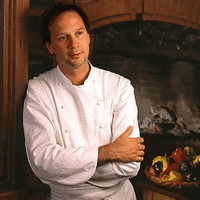 Paul Bertolli
Does Virtual Events:
TV Show: No
Cookbook: Yes
Restaurant: Yes
Cuisine: American
Fee Range: $20,000 – $50,000

Instrgram Followers:

TikTok Followers:
Biography:
Paul Bertolli is one of the most respected names in the modern culinary community and is known for his work as an executive chef.  His cooking style differs based upon which type of setting he is cooking for, but he has been a prominent member of the California Cuisine movement and traditional Italian Cuisine community.
Celebrity Chef Paul Bertolli has garnered his fame and reputation as a prominent chef in the California food community.  Until 2005, Bertolli was the executive chef for the well-known Oakland based restaurant Oliveto.  The restaurant featured a quiet European setting fit with an abundance of wines and exquisite menu options.  Prior to arriving at Oliveto, Bertoli rose to the national spotlight for his cooking ability especially once he became the executive chef for Chez Panisse.  Chez Panisse is one of the premier gourmet food establishments in California, and was one of the pioneers in the California Cuisine style.  The restaurant flourished under Bertolli's instruction, and it led him to co-author a book called Chez Panisse Cooking.  The book was highlighted be their use of California Cuisine methods, which uses different types of cooking styles/ingredients in unison partnered with freshly prepared local ingredients.  Since leaving Oliveto, Bertolli started his own handcrafted foods brand called Fra' Mani Handcrafted Salumi's.  The company offers an array of specially prepared meats that include popular Italian cured-pork products like salami and prosciutto.  The company prepares and cures all of it own meats and the company slogan read, "From our hands to yours."  Fra' Mani has a number of distributors around the country and is one of the leaders in gourmet cured meats in the United States.  In addition to his other work, Bertolli has authored another cookbook called "Cooking By Hand."
Cooking demonstrations, endorsements, personal appearances, PR campaigns, speaking engagements, hire, book, we represent, contact, find celebrities, chefs and agents for Paul Bertolli. If you want to find the representation, PR firm, marketing company, corporate consulting, speaking agent, to book or hire Paul Bertolli, Celebrity Chef Network is the agency of corporate consulting for your program. Our booking agents are the best in the business for consulting companies, agencies and universities in finding fees, availability and interest for celebrity chefs like Paul Bertolli for any type of event, appearance, speaking engagement, endorsement, corporate event, motivational speech, PR campaigns, etc. Call Celebrity Chef Network at 212-410-9879 or email booking@celebritychefnetwork.com.  Our booking agents are here to help you hire your Celebrity Chef now.