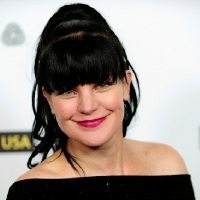 Pauley Perrette
Does Virtual Events:
TV Show: No
Cookbook: Yes
Restaurant: Yes
Cuisine: Celebrities in Food, Southern
Fee Range: $50,000 – $100,000

Instrgram Followers:

TikTok Followers:
Biography:
Actress Pauley Perrette has enjoyed a starring role on the hit TV drama series NCIS, but she moonlights as a talented Celebrity Chef! In 2015, the Pauley Perrette cookbook hit stores titled Donna Bell's Bake Shop. The cookbook followed Pauley and her two best friends Darren Greenblatt and Matthew Sandusky on their journey since opening Donna Bell's Bake Shop in New York. The Pauley Perrette cookbook shares Donna Bell's favorite southern style recipes with glittering illustrations to match.
Celebrity Chef Pauley created the bake shop with help from her friends as a tribute to her mother's delectable southern cooking. The bake shop finds its home in Manhattan and has since expanded to offering baked goods and novelty items on their online store so everyone can get a taste of their southern charm.
What's not to love about Pauley Perrette? She's a hardworking actress whose college studies in criminal justice would eventually serve her well in her role as forensic scientist Abby Sciuto on NCIS. NCIS is a global phenomenon that has become the world's favorite TV drama since it first aired in 2003. Before joining the TV series, Pauley was working feverishly as a commercial actress. She landed small roles in TV shows such as Frasier, Time of Your Life and Dawson's Creek. She also appeared in several movies including Almost Famous and The Ring.
Pauley is a passionate person who has been involved in many charity campaigns close to her heart. She has worked with the American Red Cross and is an outspoken supporter of LGBT rights. Pauley's love for animals has kept her involved with animal rescue initiatives throughout her career. She has hosted the annual Pawscars Awards on behalf of the American Humane Association in addition to partnering with Animal Planet's Tanked cast to donate a custom aquarium to a homeless shelter for mothers and children.
The new Pauley Perrette cookbook is just another reason why we love Celebrity Chef Pauley and she makes a great Celebrity Host for events, fundraisers and corporate functions.