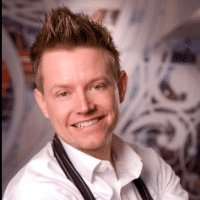 Richard Blais
Does Virtual Events:
TV Show: No
Cookbook: Yes
Restaurant: Yes
Cuisine: American
Fee Range: $20,000 – $50,000

Instrgram Followers:

TikTok Followers:
Biography:
Richard Blais is an American chef, restaurateur and author most famous for his runner-up performance in the 4th season of Bravo's hit cooking competition reality show Top Chef. He returned in season 8 of the series on Top Chef: All-Stars and won the competition over talented chefs such as Spike Mendolsohn and Mike Isabella. He owns and operates his own culinary company Trail Blais which has helped with consulting, designing, and operating several restaurants in the Atlanta area.
Celebrity Chef Richard began his culinary career at the Culinary Institute of America in New York where he was intrigued by the French cuisine and eventually accepting a position at the French Laundry under esteemed Chef Thomas Keller. On Richard's journey to owning his own restaurants and company he worked at some fine establishments in different corners of the globe including under Chef Daniel Boulud at Restaurant Daniel and in Spain at El Bulli under Chef Ferran Adria. In 2004 after moving to the restaurant scene in Atlanta he opened his critically acclaimed first restaurant BLAIS, and has since become a partner of the modern burger restaurant FLIP Burger Boutique with two locations in Atlanta and Birmingham with plans to extend their reach to Los Angeles and Miami. His most recent restaurant The Spence opened in 2012.
Aside from Top Chef, Richard has made appearances on other cooking reality shows as well including Food Network's Iron chef: America and Food Detectives. His culinary knowledge and skills have also been showcased in well known publications like the New York Times, Food & Wine magazine, and Sports Illustrated. His dramatic weight loss of over 60 lbs has also inspired many in the industry to reevaluate their health choices in a time-consuming industry full of food choices. His first cookbook released in 2013 was titled Try This at Home: Recipes from My Head to Your Plate, and detailed the signature recipes and flavor combinations that helped make him the successful chef he is today.
Cooking demonstrations, endorsements, personal appearances, PR campaigns, speaking engagements, hire, book, we represent, contact, find celebrities, chefs and agents for Richard Blais. If you want to find the representation, PR firm, marketing company, corporate consulting, speaking agent, to book or hire Richard Blais, Celebrity Chef Network is the agency of corporate consulting for your program. Our booking agents are the best in the business for consulting companies, agencies and universities in finding fees, availability and interest for celebrity chefs like Richard Blais for any type of event, appearance, speaking engagement, endorsement, corporate event, motivational speech, PR campaigns, etc. Call Celebrity Chef Network at 212-410-9879 or email booking@celebritychefnetwork.com.  Our booking agents are here to help you hire your Celebrity Chef now.