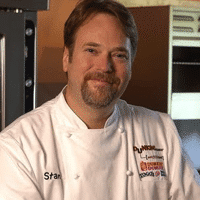 Stan Frankenthaler
Does Virtual Events:
TV Show: No
Cookbook: Yes
Restaurant: Yes
Cuisine: American, Asian, Fusion
Fee Range: $20,000 – $50,000

Instrgram Followers:

TikTok Followers:
Biography:
As Dunkin' Donuts first ever executive chef, Stan Frankenthaler is in charge of revamping the Dunkin' Donuts menu.  Under his supervision, innovative items such as the Big N' Toasted Breakfast Sandwhich, Bagel Twists and Sausage Pancake bites have been added to the menu. Frankenthaler was awarded MenuMasters Innovator of the Year, an award given by Nation's Restaurant News and Ventura Foods. Chef Frankenthaler has also created new java-inspired rubs and sauces for grilling which are available online.
Before joining Dunkin' Donuts, Chef Frankenthaler was the head chef and owner of the restaurants Salamander and the Blue Room, both in the New England area. Frankenthaler earned three James Beard Award nominations during his time as chef at these two restaurants. In addition, Salamander was named one of Boston's Top Ten Restaurants by Zagat.
Celebrity Chef Frankenthaler has also earned national attention from magazines like Gourmet, Travel & Leisure, and Bon Appetit. He was on the PBS series Chefs A'Field which focuses on the personal stories of farmers, fishermen, foragers, and chefs. The show has been awarded two James Beard awards and an Emmy nomination.  The series has also been recognized by Food & Wine Magazine with their annual Tastemaker Award.
Cooking demonstrations, endorsements, personal appearances, PR campaigns, speaking engagements, hire, book, we represent, contact, find celebrities, chefs and agents for Stan Frankenthaler. If you want to find the representation, PR firm, marketing company, corporate consulting, speaking agent, to book or hire Stan Frankenthaler, Celebrity Chef Network is the agency of corporate consulting for your program. Our booking agents are the best in the business for consulting companies, agencies and universities in finding fees, availability and interest for celebrity chefs like Stan Frankenthaler for any type of event, appearance, speaking engagement, endorsement, corporate event, motivational speech, PR campaigns, etc. Call Celebrity Chef Network at 212-410-9879 or email booking@celebritychefnetwork.com.  Our booking agents are here to help you hire your Celebrity Chef now.