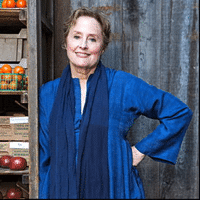 Alice Waters
Does Virtual Events:
TV Show: No
Cookbook: Yes
Restaurant: Yes
Cuisine: Healthy, Organic
Fee Range: $50,000 – $100,000

Instrgram Followers:

TikTok Followers:
Biography:
Known as the mother of American food Alice Waters is an American chef, author and restaurateur, who works tirelessly to promote her philosophy that fine, fresh and seasonal ingredients that are locally and sustainably produced should be the base of all food. Her philosophy spills over into all aspects of her professional career and personal life.
Waters is the owner of Chez Panisse, a farm to table restaurant in Berkeley, California that is known for its organic and locally grown ingredients. Since opening in 1971, Chez Panisse has been ranked in the World's 50 Best Restaurants consistently. Waters is also the author of eight bestselling books such as Chez Panisse Cooking with Paul Bertolli and The Art of Simple Food.
With her strong beliefs and motivation to change the food industry, Waters has stepped into the nonprofit realm. In 1996, she founded the Chez Panisse Foundation and created The Edible Schoolyard at Berkeley's Martin Luther King, Jr. Middle School. The Edible Schoolyard is a model public education program that strives to teach children how to build a sustainable future. The success of this program has led to national changes supporting healthy living such as the School Lunch Initiative.  Waters is also Vice President of Slow Food International, a nonprofit that promotes local and artisan food traditions. Slow Food International has 100,000 members and a presence in over 130 countries.
Cooking demonstrations, endorsements, personal appearances, PR campaigns, speaking engagements, hire, book, we represent, contact, find celebrities, chefs and agents for Alice Waters. If you want to find the representation, PR firm, marketing company, corporate consulting, speaking agent, to book or hire Alice Waters, Celebrity Chef Network is the agency of corporate consulting for your program. Our booking agents are the best in the business for consulting companies, agencies and universities in finding fees, availability and interest for celebrity chefs like Alice Waters for any type of event, appearance, speaking engagement, endorsement, corporate event, motivational speech, PR campaigns, etc. Call Celebrity Chef Network at 212-410-9879 or email booking@celebritychefnetwork.com.  Our booking agents are here to help you hire your Celebrity Chef now.