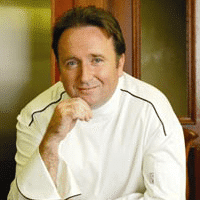 Bernard Guillas
Does Virtual Events:
TV Show: Yes
Cookbook: Yes
Restaurant: No
Cuisine: Classical French, Organic
Fee Range: Under $10,000

Instrgram Followers:

TikTok Followers:
Biography:
Hire Bernard Guillas through Celebrity Chef Network. Booking a celebrity chef requires an expert team. Let the booking agents at Celebrity Chef Network help you hire the best one for your brand or event. To contact Celebrity Chef Network, call 212-410-9879 or email booking@celebritychefnetwork.com.
NETWORKS: PBS
CHARITIES: Mama's Kitchen, Share Our Strength Taste of the Nation fund-raiser for hunger relief, the San Diego Bay Wine and Food Festival, annual guest chef for Celebrities Cook for Cancer, a fund-raiser that benefits the University of California San Diego Cancer Center
BIO: Chef Bernard Guillas joined the La Jolla Beach & Tennis Club as executive chef in 1994 and knew it was the place or him; coastal lifestyle was right up his alley coming from Brittany, France. Using the local flavors and his classical training, Bernard is responsible for operations at La Jolla Beach & Tennis Club, the Shores Restaurants at the La Jolla Shores Hotel, and the Marine Room restaurant. His position entails Bernard to oversee all menus, wine selections and special events.
Rewinding back to his formal training, he began at le Bretagne Restaurant in Questembert, France where he worked alongside Georges Paineau. Expanding his training with several Maitres Cuisinier de France fine dining restaurants, he moved on to become chef de cuisine at Le Dolmen in French Guyana. He attributes this move with influencing him with the rich diverse South American flavors that he incorporates into his food today.
Under Pierre Chambrin, the former White House executive chef, Bernard Guillas moved to Washington DC to work as chef tournant, chef chef saucier, and sous chef at Maison Blanche. In 1989, he relocated to San Diego and spent five years as chef de cuisine at the Grant Grill, in the US Grant Hotel in downtown San Diego. Bernard was inducted into the International Restaurant & Hospitality Rating Bureau's American Chefs' Hall of Fame in 2001 and is one of only fourteen chefs to receive this honor. He has appeared on Food Arts Magazine, the Rising Star Chef cookbook and PBS' Rising Chef television series and has been a guest on Martha Stewart Living Radio show and KPBS.
He has been guest chef at the prominent James Beard House in New York, was selected as San Diego's Best Chef numerous times, named the Gold Medallion Awards recipient, Chef Magazine, San Diego Home/Garden Lifestyles Magazine Readers Poll and San Diego Magazine People's and Critic's Choice. Bernard Guillas is available for cooking demonstrations, hosting and speaking engagements.
APPEARANCES: KPBS, StarChefs.com, plate, the Food Channel, behind the burner, San Diego Reader, Washington Times, Comfort Food Magazine, and many more
BOOKS: Flying Pans, Two Chefs Cookbook
WHO REPRESENTS BERNARD GUILLIAS: Celebrity Chef Bernard Guillas can be hired for endorsements and events in roles such as culinary consultant, event planner, public speaker, autograph signings, cooking demonstrations, hosting, Mommy Blogger events, SMTS, public relation campaigns, team building events and corporate hospitality.
To hire Bernard Guillas for an endorsement, personal appearances, or book signing contact the experts at Celebrity Chef Network at booking@celebritychefnetwork.com  or 212-410-9879.