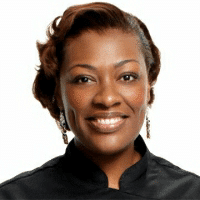 Tiffany Derry
Does Virtual Events:
TV Show: No
Cookbook: No
Restaurant: No
Cuisine: Cajun, Southern
Fee Range: $10,000 – $20,000

Instrgram Followers:

TikTok Followers:
Biography:
32-year-old Tiffany Derry came into culinary fame after being chosen as the fan favorite during the seventh season of Bravo's reality kitchen television show, Top Chef: Washington D.C. Her supporters appreciated Tiffany's charming confidence in the kitchen. The judges loved her Texan and Creole cuisine, too.
Tiffany got her start in the culinary world by working her way up to an IHOP management position at the young age of 17. This experience and participation in American Culinary Federation competitions aided Tiffany in attending the Art Institute of Houston, where she earned an Associate of Applied Science degree in Culinary Arts.
Upon graduating, Tiffany accepted an executive sous chef position at Grotto Cucina. Tiffany then decided to return to the Art Institute of Houston to teach, passing on the culinary knowledge the institute had given her.
When the eighth season, Top Chef: All-Stars, rolled around, Tiffany was invited to return as a cheftestant. She finished in fourth place after Antonio Lofaso, Mike Isabella, and winner, Richard Blais. Tiffany went on to become the executive chef of the esteemed Go Fish Ocean Club in Dallas.
After opening Private/Social with Patrick Helbert of the Halstin Group, Tiffany ventured further into the culinary business. Tiffany then opened another company of her own, Tiffany Derry Concepts. TDC handles Tiffany's culinary and business ventures. She has appeared on Spike TV's "Hungry Investors" and "Bar Rescue."
In the summer of 2014, Tiffany accepted an offer to participate in the upcoming celebrity chef cruise line, Top Chef at Sea. The Celebrity Reflection sets sail for the Eastern Caribbean on the fifteenth of November with Tiffany and her fellow cheftestants, Shirley Chung, Casey Thompson, and Hosea Rosenberg, on board.
Cooking demonstrations, endorsements, personal appearances, PR campaigns, speaking engagements, hire, book, we represent, contact, find celebrities, chefs and agents for Tiffany Derry. If you want to find the representation, PR firm, marketing company, corporate consulting, speaking agent, to book or hire Tiffany Derry, Celebrity Chef Network is the agency of corporate consulting for your program. Our booking agents are the best in the business for consulting companies, agencies and universities in finding fees, availability and interest for celebrity chefs like Tiffany Derry for any type of event, appearance, speaking engagement, endorsement, corporate event, motivational speech, PR campaigns, etc. Call Celebrity Chef Network at 212-410-9879 or email booking@celebritychefnetwork.com.  Our booking agents are here to help you hire your Celebrity Chef now.