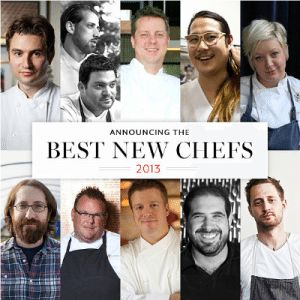 Food & Wine Magazine is one of the leaders in recognizing the cooking industry's most talented chefs along with publications such as the Michelin Guide and the James Beard Foundation Awards. The magazine recently announced its 25th annual list of awards for Best New Chefs of 2013, naming 11 up and coming chefs to the list.
One of the biggest changes to the awards this year was the magazine's expansion to restaurants outside the United States to Puerto Rico where they found Celebrity Chef Jose Enrique producing authentic Puerto Rican dishes with an adherence to cocina criolla style. Named the James Beard Foundation's Rising Star Chef in 2013, Chef and Restaurateur Danny Bowien also made the list. This year his restaurant Mission Chinese Food, with locations in San Francisco and New York City, was named one of four U.S. restaurants in Zagat's top ten "it" restaurants of 2013. Bravo's season six winner of Top Chef Michael Voltaggio made the list after a stint as Chef de Cuisine of The Dining Room when it won a Michelin star, one of only a few restaurants in the U.S. to ever receive a Michelin star. He also opens and now runs two restaurants in called ink. and inksack. which provide impeccable, modern cuisine to West Hollywood. The "Prince of Pork" Chef Jason Vincent made the list after showcasing his culinary skills at Chef Jason Hammel's Chicago restaurant Nightwood. Under Vincent, the restaurant won the Michelin Guide's Bib Gourmand Award for culinary value at a reasonable price.
Chef visionary Alex Stupak earned his spot on the list with his incredible Mexican dishes at his two restaurants in New York, Empellon Taqueria and Empellon Cocina. This once top of the line pastry chef is taking Mexican cuisine in a new direction, challenging the boundaries of culinary art. Some other northeastern chefs got the nod by Food & Wine including Chef Jamie Malone and Chef Matthew Gaudet. As a member of the culinary board for the Norwegian Seafood Council, Chef Jamie advocates and utilizes more sustainably sourced seafood practices for her restaurant in Minneapolis. Chef Matthew's Massachusetts restaurant West Bridge also uses seafood that is more sustainably sourced according to the Monterrey Bay Aquarium Seafood Watch program. Former Disney on Ice figure skater turned chef Justin Cogley made the list, wowing customers at intimate Carmel, C.A. restaurant Aubergine. Chef Chris Shepherd made the list out of his Houston restaurant Underbelly, which provides American Creole style dishes with an Asian-twang. His restaurant was mentioned by Southern Living magazine as one of the best new restaurants of the south. Rounding out the list were Chef Andy Ticer and Chef Michael Hudman, friends and talented chefs who opened two of their own restaurants Andrew Michael Italian Kitchen and Hog and Hominy, which were recently recognized by Southern Living and GQ magazine as two of the best new restaurants in 2013. These Best New Chefs bring to the table a new wave of culinary expertise and exciting dishes for their customers. 
Contact booking@celebritychefnetwork.com or call us at 888.864.4734 for more information on celebrity chef cooking demonstrations, endorsements, appearances and cookbook signings.