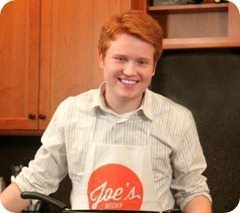 The Eau Claire, Wisconsin native has his own web cooking show titled 'Joe's Kitchen' that is followed by millions worldwide, his own radio show on Los Angeles talk radio, is the spokesperson for Mega Foods, and now owns his own business. Did we mention that he's only 18?
The young man ranked No. 1 'Most Entertaining Celebrity Chef' on the website, Ranker.com, announced earlier this month that he had started his own company to benefit all of the media he creates.
This is what Luginbill had to say in an official statement:
"Luginbill Omnimedia is a diversified media and merchandising company founded by Joe Luginbill and other investors. It is organized into four business segments: Publishing, Internet, Broadcasting media platforms and Merchandising product lines. Luginbill Omnimedia's business holdings include a variety of print publications and television and radio programming."
Luginbill is a self-taught chef, who started his cooking journey by preparing healthy, gluten free recipes for his mother. The celebrity chef's journey has brought him to internet stardom to the point where his videos have grown to over 3.35 million views on YouTube. His internet success continues on Twitter, where his account, @JosephLuginbill, has over 50,000 followers.
His most popular episode of Joe's Kitchen came on August 15 of this year. In honor of what would have been Julia Child's 100th birthday, Luginbill did a southern styled recipe that received over 1.3 million views within the first 24 hours of being posted.
In an era where so much emphasis is put on childhood obesity, Joe's dedication to using healthy products in his recipes is a breath of fresh air. A celebrity chef like Luginbill can be a positive influence on his fellow teenagers, and as the spokesperson for Mega Foods, he intends to do just that.
Luginbill looks forward to future opportunities that lay ahead of him. Joe Luginbill anticipates adding more to his plate by performing speaking engagements, endorsements, and personal appearances. He has exploded onto the celebrity chef scene and you can expect to see a lot more of his work in the future as his career-and his company- grow.