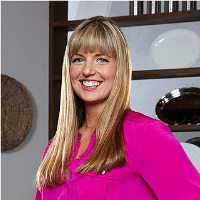 Damaris Phillips
Does Virtual Events:
TV Show: Yes
Cookbook: No
Restaurant: No
Cuisine: Southern
Fee Range: $20,000 – $50,000

Instrgram Followers:

TikTok Followers:
Biography:
Celebrity Chef Damaris Phillips learned to cook at an early age and was responsible for cooking a meal once a week for her large family. However, becoming a television cooking star was not always part of her plans. After graduating with a degree in culinary arts, her passion for food grew immensely and her dreams became bigger.
Celebrity Chef Speaker Damaris graduated from Jefferson Community and Technical College and now teaches baking and restaurant management at the same school where she encourages up-and-coming chefs to follow their dreams. However, before she returned to teaching, Damaris took on several baking and restaurant jobs where she was inspired to become the Next Food Network Star.
Damaris' original claim to fame comes from her time as a contestant on the ninth season of "The Next Food Network Star." This past year, Damaris fulfilled her dream to compete on Food Network's popular show and it didn't take long for America to fall in love with this Southern spitfire. With her signature blonde hair and sweet Southern charm, she faced off against eleven other contestants and not only impressed the judges, but she won the audience vote and was crowned the winner. The victory granted her the opportunity to host her own television series on Food Network, Southern at Heart. The show debuted in October 2013 and teaches American's how to impress their dinner dates with her fresh take on Southern food. The show has already been renewed for a third season which premiered in November of 2014.
Although Damaris is fairly new to the Food Network family, she has turned into one of the most recognizable faces on the network.
Cooking demonstrations, endorsements, personal appearances, PR campaigns, speaking engagements, hire, book, we represent, contact, find celebrities, chefs and agents for Damaris Phillips. If you want to find the representation, PR firm, marketing company, corporate consulting, speaking agent, to book or hire Damaris Phillips, Celebrity Chef Network is the agency of corporate consulting for your program. Our booking agents are the best in the business for consulting companies, agencies and universities in finding fees, availability and interest for celebrity chefs like Damaris Phillips for any type of event, appearance, speaking engagement, endorsement, corporate event, motivational speech, PR campaigns, etc. Call Celebrity Chef Network at 212-410-9879 or email booking@celebritychefnetwork.com.  Our booking agents are here to help you hire your Celebrity Chef now.