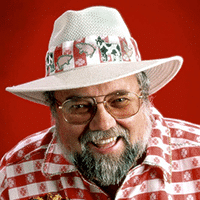 Rick Browne
Does Virtual Events:
TV Show: Yes
Cookbook: Yes
Restaurant: No
Cuisine: BBQ
Fee Range: Under $10,000

Instrgram Followers:

TikTok Followers:
Biography:
As one of only twenty-three people worldwide to have received an honorary Ph.B., or Doctor of Barbecue Philosophy, grilling expert Rick Browne is a name to remember. With the degree bestowed upon him by the Kansas City Barbeque Society, Browne is well studied in the area of barbeque after spending fifteen years researching and practicing the sport across 26 countries. A total of fifteen cookbooks to his name, including bestsellers such as The Best Barbeque on Earth and The Ultimate Guide to Grilling, Browne is an articulate chef with twenty-five years of experience as a photojournalist and writer. He has covered stories in periodicals as diverse as Time, People, and Bon Appetite, and he has recently undertaken the endeavor of running his own magazine entitled Barbeque America Barbeque, which focuses on the activity of barbequing and all things related to it. In addition to writing his own material, Browne has also been featured in numerous magazines like USA Today and Good Housekeeping for his talent.
Alongside the print industry, Browne has also showcased his elite talent on numerous television shows, from Good Morning America to CBS This Morning; Browne is willing to share his exclusive barbeque knowledge with the world. With so much credibility, Browne is also the host, creator, and executive producer of the widespread television series, Barbeque America, which explores the culinary possibilities of America's landscape. The series is currently on its seventh season, and it has aired on more than 230 public television stations nationwide. A natural speaker in front of the camera, Browne was also the host of the series Ready, Aim…Grill for two seasons as he traveled across the US and Canada to film shows in various fishing and hunting locations. Last year, Browne was even invited as one of sixteen grilling experts to participate in the Food Network's Chopped Grilling Championships, making it all the way to the final round of the competition.
As a successful chef, Browne is involved in a range of humanitarian efforts. Preparing dinners for both national and local organizations such as the American Cancer Society and YWCA, Browne has worked closely with these groups cooking meals, as well as donating items for philanthropic auctions. In addition to being involved in charity organizations, he is also a member of cooking societies such as the International Association of Culinary Professionals and the California Barbeque Association. A well-spoken barbeque expert with the experience to prove it — that is how Browne was able to earn his Ph.B.
Cooking demonstrations, endorsements, personal appearances, PR campaigns, speaking engagements, hire, book, we represent, contact, find celebrities, chefs and agents for Rick Browne. If you want to find the representation, PR firm, marketing company, corporate consulting, speaking agent, to book or hire Rick Browne, Celebrity Chef Network is the agency of corporate consulting for your program. Our booking agents are the best in the business for consulting companies, agencies and universities in finding fees, availability and interest for celebrity chefs like Rick Browne for any type of event, appearance, speaking engagement, endorsement, corporate event, motivational speech, PR campaigns, etc. Call Celebrity Chef Network at 212-410-9879 or email booking@celebritychefnetwork.com.  Our booking agents are here to help you hire your Celebrity Chef now.