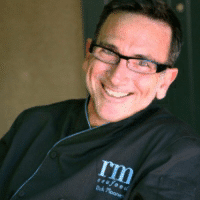 Rick Moonen
Does Virtual Events:
TV Show: Yes
Cookbook: Yes
Restaurant: Yes
Cuisine: American
Fee Range: $10,000 – $20,000

Instrgram Followers:

TikTok Followers:
Biography:
Hire Rick Moonen through Celebrity Chef Network. Booking a celebrity chef requires an expert team. Let the booking agents at Celebrity Chef Network help you hire the best one for your brand or event. To contact Celebrity Chef Network, call 212-410-9879 or email booking@celebritychefnetwork.com.
CHARITIES: Seafood Choices Alliances, Wildlife Conservation Society, Ecochef
BIO: Graduating from the Culinary Institute of America, and first in his class, Rick Moonen has a passion for sustainable fishing and seafood all of which has led to national acclaim. He apprenticed at L'Hostellerie Bressane in Hillsdale, New York and cooked beside Chef Jean Morel.
From L'Hostellerie Bressane, Rick held the position of saucier at Manhattan's La Cote Basque and then two years at Le Cirque, working with the legendary Alain Salihac. In the coming years, Rick Moonen expanded his career through New York, becoming executive chef at many of New York's finest most iconic restaurants; including Le Relais, Century Café, Chelsea Central, and Buzzy O'Keefe at The Water Club. After spending six years here, he left to become executive chef and partner at Oceana. While here, the restaurant gained three stars from The New York Times and gained national recognition. Next on his resume, Rick Moonen partnered to create Molyvos, a Greek restaurant that also earned three stars from The New York Times.
After five years, he finally decided to develop his own highly anticipated restaurant. As the executive chef and owner of New York City's rm, he once again received three stars from The New York Times. In 2005, the growing city of Las Vegas caught Rick Moonen's attention and he decided to close shop and move his technique to the west coast.
Rick Moonen's rm seafood at Mandalay Bay Resort was opened in 2005 as a multi-leveled restaurant. The lower level offers the coastal favorites and a famous raw bar in a upbeat atmosphere. The second level offers diners a more elegant feel featuring Rick creative tasting and a la carte menus.
Rick can be seen all over the world speaking and teaching those on the dangers of over-fishing and ocean conservation. As the founding member of Seafood Choices Alliances, he was named "Seafood Champion" and is an active member of the Wildlife Conservation Society. He serves as the spokesperson for American caviar and is often quoted for his expertise with various indigenous and exotic fish. His first cookbook titled, Fish Without a Doubt, is a step by step guide on how to buy, prepare and cook a wide variety of fish. Rick Moonen is available for speaking engagements, team building campaigns, and cooking demonstrations.
BOOKS: Fish Without a Doubt
WHO REPRESENTS RICK MOONEN: Celebrity Chef Rick Moonen can be hired for endorsements and events in roles such as culinary consultant, event planner, public speaker, autograph signings, cooking demonstrations, hosting, Mommy Blogger events, SMTS, public relation campaigns, team building events and corporate hospitality.
To hire Rick Moonen for an endorsement, personal appearances, or book signing contact the experts at Celebrity Chef Network at booking@celebritychefnetwork.com  or 212-410-9879.