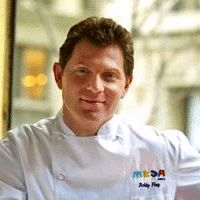 Wegmans in Malvern Hosts the Iron Chef to Meet & Greet Fans!
Celebrity Chef and owner of several iconic restaurants including Bobby's Burger Palace, Bobby Flay Steak, Mesa Grill and Bar American, Bobby Flay has written another NY Times Best-selling book, Barbecue Addiction.  Flay, an Iron Chef along other iconic Celebrity chefs such as Mario Batali, Cat Cora, Masaharu Morimoto, Jose Garces, Michael Symon, Marc Forgione and the newly minted Alex Guarnaschelli has embarked on a national book tour.  The iconic chef was hired/booked to make multiple appearances across the US including one at Supermarket giant, Wegmans in Malvern, PA last week.
Over 1,000 people waited in line for hours to see their favorite Celebrity Chef who was hired/booked to sign books, meet & greet, take pictures, and share stories at this personal appearance.  Chef Flay is the iconic chef who was originally hired/booked by Food Network for the Iron Chef America show, then went on to Great Chefs, Hot off the Grill with Bobby Flay, Food Nation, 3 Days to Open, Boy Meets Grill, BBQ with Bobby Flay, Throwdown with Bobby Flay, Grill It! With Bobby Flay, The Best Thing I Ever Ate, Brunch at Bobby's, Worst Cooks in America with Celebrity Chef Anne Burrell and Bobby's Dinner Battle.
The sold event for Wegman's Shopper Club members was a huge success.  Part of the excitement was that Club Shoppers received a 30% discount on Flay's book when they bought it at the store.  Droves of fans waited for Flay with his boyish smile and culinary expertise to show up and share cooking tips and advice.  Although he didn't do a cooking demonstration or motivational speech, it was an intimate setting where each fan felt like the celebrity chef they knew so well was there just for them.   Flay is a master at working a crowd and this event was no different.   When Bobby Flay is hired/booked for an event he has high expectations and seemingly never lets his fans down.  Whether it's a corporate event, cooking demonstration, speaking engagement, endorsement, licensing opportunity or a sales meeting, when you hire/book Bobby Flay you can expect the best from this icon.