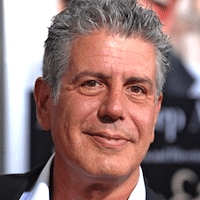 Celebrity Chef turned fan favorite, voice of a generation, author and world traveler will hoist CNN on his back for another season as he has been hired/booked for season 2 of Anthony Bourdain: Parts Unknown.  This travel show that includes Boudain going deep into parts of the world you have never heard of to explore what the indigenous population eat.   And many times it looks more like an Andrew Zimmern Travel Channel show than delicacies that was created by an Iron Chef America like Mario Batali, Masahuru Morimoto, Bobby Flay or Michael Symon.
CNN has been struggling to find its footing after years of just being the "Breaking News" network.   With the hiring/booking of Anderson Cooper and his 360 franchise, TV/medical expert Sanjay Gupta and now Bourdain, CNN has a line-up that focuses much more on a viable commercial audience.   Bourdain who was previously hired/booked by Travel Channel for his wildly successful Anthony Bourdain: No Reservations after writing the industry changing NY Times Best-selling author of Kitchen Confidentials, which was Bourdain's experiences of over 20 years as a head chef for one of the best restaurants in NYC.
Bourdain exposed the seedy underbelly of the rock star status of a NYC iconic celebrity chef including the partying, drinking and tips on when and when not to eat at certain restaurants.   Exposing this previously unknown world opened Bourdain to be a favorite to be hired/booked by tradeshows, speaking engagements, personal appearances which culminated in a Tour with best friend and celebrity chef Eric Ripert.  The two swashbucklers are as different in cultures and cuisine's as they are in upbringings.    Bourdain and Ripert also have been hired/booked by the Ritz Carlton Cayman Islands where Celebrity Chef Eric Ripert owns a restaurant and the two hold an annual event where they invite their friends who are giants of the celebrity chef world.