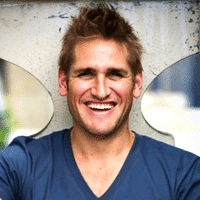 Curtis Stone has a reputation.  Unlike most celebrities especially in the culinary world of chefs, a reputation isn't always good but in Curtis Stone's case it is.   The Australian chef has made friends in very high places in the industry that has produced edgy celebrity chefs such as Guy Fieri, Anne Burrell and Spike Mendelson.  With the pull of the industry to be tatted up and hair spiked, Curtis Stone remains who he always has been, a guy dedicated to his craft, to his food and now to his family.  After having his first child Chef Stone decided to write a book on how you can produce great meals with a child on your hip and not a lot of time to do it.   Stone's book What's for Dinner has been acclaimed by many parents groups and moms around the world.
Known for his People Magazine tag line as one of the "Sexiest Men Alive", Stone doesn't take that title or himself too seriously.  He keeps it very simple and that is one of his apparent charms to so many fans.  Appealing to both men who want to be like him and women who just want him, Stone's perspective and simplistic cooking style makes him truly a man of the people.   Starting in business school (which he dropped out of) than hired/booked to tutor under chef extraordinary, Marco Pierre White at the age of 22 in London was a dream come true.  His rolodex looks like the who's who of celebrity A-listers from the Queen of England to Oprah!
Hired/Booked to be on top talk shows such as Ellen, Oprah, Martha Stewart, Katie Couric, The Biggest Loser and the Today Show, Stone has exploded on the scene more for who he is than what he cooks.  His boyish grin and model good looks get him in the door but it is overwhelmingly normal persona that keeps him there.  You can imagine Curtis coming to your house and cooking you dinner and in fact he was hired/booked for one of his first TV shows in the US to do just that.  Get picked up in a supermarket and cook a spouse or boyfriend of the person he met a dinner from simple ingredients.  There aren't many celebrity chefs that would lower themselves to actually be in your kitchen.  Curtis sees it as an opportunity to stay humble and bond with his fan base that are passionately in love with who he is.  Being a first time dad with his long-time girlfriend who he met on a blind date just goes to show he is one of us.  He can't decide… on marriage or not but he has decided on something:  How to be iconic without the attitude.   Curtis Stone has been hired/booked by so many top corporations for cooking demonstrations, motivational speeches, public relations campaigns, spokesperson roles and personal appearances because he has an appeal that is undeniable.