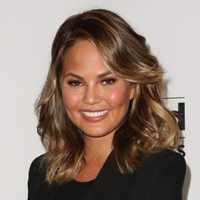 Chrissy Teigen
Does Virtual Events:
TV Show: No
Cookbook: Yes
Restaurant: No
Cuisine: American, Celebrities in Food, Fusion
Fee Range: $50,000 – $100,000

Instrgram Followers: 5,480,382

TikTok Followers:
Biography:
Beloved model turned Celebrity Chef Chrissy Teigen is the wife of music icon John Legend and one of the most celebrated Sports Illustrated swimsuits models in the history of the magazine. Her bubbly personality has expanded her career into many different avenues including guest starring on TV shows and even co-hosting Spike's new series Lip Sync Battle with LL Cool J. In February of 2016, Chrissy released her first cookbook titled Cravings: All the Food You Want to Eat. In it she provided a variety of her favorite recipes and home creations that featured a tasty mix of different ingredients and culinary styles.
What sets Chrissy apart from other Celebrity Chef Speakers is her charm, quick wit and general disregard for the traditional rules of the kitchen. Chrissy makes what tastes good. Period. From artichoke, spinach and buffalo chicken mash-up dip to charred broccoli with garlic bread crumbs, there's something in her book for every taste bud! Following the release of her cookbook, Chrissy has made a number of celebrity chef appearances to sign books and meet with her growing fan base.
In 2013, Celebrity Chef Chrissy Teigen appeared in her own special on the Cooking Channel called Chrissy Teigen's Hungry. The special followed Chrissy and husband John as they went wedding menu tasting and finalized their food and drink plans for the big day. More recently, Chrissy was one of the Celebrity Chef Speakers chosen to appear in the Cooking Channel's Cookies & Cocktails special. In September of 2015, Chrissy was introduced as the co-host and food guru on Tyra Bank's talk show, FABlife. That same year she was chosen to co-host the Billboard Music Awards with Ludacris.
Contact Celebrity Chef Network to hire Celebrity Chef Chrissy Teigen for celebrity chef appearances or celebrity chef speaking opportunities at your next corporate conference, trade show event or fundraiser.