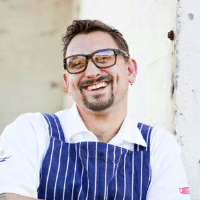 Chris Cosentino
Does Virtual Events:
TV Show: No
Cookbook: Yes
Restaurant: Yes
Cuisine: Italian
Fee Range: $20,000 – $50,000

Instrgram Followers:

TikTok Followers:
Biography:
Many of us are content to get our packaged meat from the grocery store or our favorite food service, but just ask Chris Cosentino and he'll tell you we're missing out. Celebrity Chef Chris has become known for a concept he defines as offal cooking, or taking the innards and usually discarded parts of meat and cooking them into delectable dishes. He gained notable recognition in the culinary world when he won the 4th season of the Top Chef Masters competition series in 2012 which donated the grand prize of $100,000 to Chris' chosen charity the Michael J. Fox Foundation for Parkinson's Research. The chef's other TV appearances include hosting duties of Food Network's 2009 series Chefs vs. City, and appearances on other network hits The Best Thing I Ever Ate and Bizarre Foods with Andrew Zimmern.
For over 12 year's Chris has cranked out some of San Francisco's best classic Italian style dishes at his restaurant Incanto which closed in 2014 to make way for his new more casual dining restaurant Porcellino. The restaurant was one of the hardest San Francisco eateries at which to secure a table and his new restaurant will usher in a whole new breed of customers and retain his loyal eaters. While developing his restaurant success, Chris also produces his own line of sausage products under the brand name Boccalone. His affinity for meats and the different ways to cook and season them led him to be featured on an episode of the History Channel series Modern Marvels where he explained how to cook pork brains.
Chris published his first cookbook in mid-2012 titled Beginnings: My Way to Start a Meal, which detailed some of the talented chef's best Italian recipes for the home cook. Many anxiously await the release of his latest cookbook set to inform the public all about his perfected art of offal cooking.
Cooking demonstrations, endorsements, personal appearances, PR campaigns, speaking engagements, hire, book, we represent, contact, find celebrities, chefs and agents for Chris Cosentino. If you want to find the representation, PR firm, marketing company, corporate consulting, speaking agent, to book or hire Chris Cosentino, Celebrity Chef Network is the agency of corporate consulting for your program. Our booking agents are the best in the business for consulting companies, agencies and universities in finding fees, availability and interest for celebrity chefs like Chris Cosentino for any type of event, appearance, speaking engagement, endorsement, corporate event, motivational speech, PR campaigns, etc. Call Celebrity Chef Network at 212-410-9879 or email booking@celebritychefnetwork.com.  Our booking agents are here to help you hire your Celebrity Chef now.