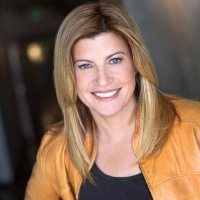 Daphne Brogdon
Does Virtual Events:
TV Show: Yes
Cookbook:
Restaurant:
Cuisine: American
Fee Range: $10,000 – $20,000

Instrgram Followers:

TikTok Followers:
Biography:
Daphne Brogdon is a Celebrity Chef, television host, blogger, standup comedian and mother of two. Not only is she the talent behind CoolMom.com, a website and daily video series that looks at the humorous side of parenthood, Daphne is serving up her creative takes on traditional family meals in her all-new Food Network series in 2014 appropriately named, Daphne Dishes. With her humorous, fun, and fresh approaches to home-cooked hearty meals, she dishes out more than just delicious feasts.
As the wife of professional chef Mark Peel, Celebrity Chef Speaker Daphne began helping him with everything from business development and marketing to catering and recipe testing at each of his restaurants. They are planning on opening an eatery in Downtown LA in the near future.
Daphne began her career as a radio producer and on-air personality. Most notably, she was the producer and co-host of the nationally syndicated "The Dr. Dean Edell Show." After the launch of CoolMom.com, she has made appearances on numerous television series, showing off her range of talent including dating advice, celebrity interviews and improv.
Daphne contributes her comedic talents to dish about what's hot and what's not in fashion and the red carpet on TV Guide Network's, "THE FASHION TEAM." As a stand-up comic, she has performed at the Riviera Comedy Club, Improv and the Comedy Store to name a few. She also wrote and performed in two solo shows, "Radio Play" and "I have to be famous by 5pm." During her time on "The X-Show," Daphne was the only female late-night host on television. She has hosted the controversial dating realty series, "Playing it Straight" and provided her quick-witted improvisational skills to numerous comedic shows on Country Music Channel and VH-1. Daphne also makes regular appearances on Dr. Phil, The Oprah Winfrey Show, CNN Headline, and MSNBC and has been featured in Pregnancy and Star Magazine.
Cooking demonstrations, endorsements, personal appearances, PR campaigns, speaking engagements, hire, book, we represent, contact, find celebrities, chefs and agents for Daphne Brogdon. If you want to find the representation, PR firm, marketing company, corporate consulting, speaking agent, to book or hire Daphne Brogdon, Celebrity Chef Network is the agency of corporate consulting for your program. Our booking agents are the best in the business for consulting companies, agencies and universities in finding fees, availability and interest for celebrity chefs like Daphne Brogdon for any type of event, appearance, speaking engagement, endorsement, corporate event, motivational speech, PR campaigns, etc. Call Celebrity Chef Network at 212-410-9879 or email booking@celebritychefnetwork.com.  Our booking agents are here to help you hire your Celebrity Chef now.