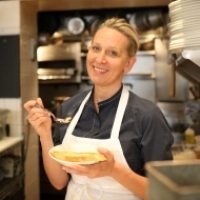 Gabrielle Hamilton
Does Virtual Events:
TV Show: No
Cookbook: Yes
Restaurant: Yes
Cuisine: Fusion
Fee Range: $10,000 – $20,000

Instrgram Followers:

TikTok Followers:
Biography:
Gabrielle Hamilton is a Celebrity Chef and author of the New York Times best-selling memoir Blood, Bones and Butter: The Inadvertent Education of a Reluctant Chef. She is also the owner of Prune, a small and prized East Village restaurant in New York City which earned her the James Beard award for Best Chef in NYC in 2011. As a self-trained cook turned James Beard award-winning chef, Gabrielle opened Prune over fifteen years ago and uses the origins of home cooking in unexpected ways, which results in a delicious food that is satisfying on many levels.
In 2014, Celebrity Chef Speaker Gabrielle released her new cookbook Prune which is named after her cherished restaurant. The book is filled with her signature recipes from the eatery and has been named One of the Best Books of the Season by O, Bon Appetit, Eater and Time magazines.
Gabrielle's success didn't come easy. She knows that although you need to make sacrifices in life, you don't have to do it at the expense of your dreams. Initially aspiring to become a writer, she received her MFA in fiction writing from the University of Michigan. In order to make ends meet, Gabrielle took jobs in the kitchen, which ultimately led her to finding a passion for cooking. In her memoir Blood, Bones & Butter, it follows her journey through the countless kitchens she has occupied over the years as well as the unexpected challenges she's had to face. She began her culinary escapade as a dishwasher and now owns her own restaurant!
In addition to her memoir, cookbook, and restaurant, Gabrielle has appeared in The New Yorker, GQ, Saveur, and Food & Wine magazines. She has been published in eight volumes of Best Food Writing and authored the eight-week column The Chef. Gabrielle has also made a number of TV appearances including appearances on Martha Stewart and the Food Network.
Cooking demonstrations, endorsements, personal appearances, PR campaigns, speaking engagements, hire, book, we represent, contact, find celebrities, chefs and agents for Gabrielle Hamilton. If you want to find the representation, PR firm, marketing company, corporate consulting, speaking agent, to book or hire Gabrielle Hamilton, Celebrity Chef Network is the agency of corporate consulting for your program. Our booking agents are the best in the business for consulting companies, agencies and universities in finding fees, availability and interest for celebrity chefs like Gabrielle Hamilton for any type of event, appearance, speaking engagement, endorsement, corporate event, motivational speech, PR campaigns, etc. Call Celebrity Chef Network at 212-410-9879 or email booking@celebritychefnetwork.com.  Our booking agents are here to help you hire your Celebrity Chef now.