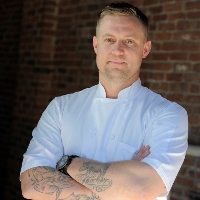 Bryan Voltaggio
Does Virtual Events:
TV Show: No
Cookbook: Yes
Restaurant: Yes
Cuisine: American
Fee Range: $20,000 – $50,000

Instrgram Followers:

TikTok Followers:
Biography:
Celebrity Chef Speaker Bryan Voltaggio is a part of the new generation of chefs who are reinventing American cooking with a new breed of farm-to-table cuisine. Bryan's passion for local, fresh ingredients was born and adopted throughout his childhood in Frederick, Maryland where meals often included fresh produce from the family garden. In 2009, Bryan was the runner-up to his brother Michael on the 6th season of Top Chef. He also appeared on Top Chef Masters in 2013 and was the first chef to compete on both Food Network series. Currently he owns and operates 6 restaurants including VOLT in his hometown of Frederick.
Bryan was destined for a life in the kitchen by his teenage years. He worked as a sous chef at local hotel restaurants before learning the tricks of the trade at the Culinary Institute of America. Chef Charlie Palmer was a huge mentor for Bryan in his early days starting out as a chef. After 9 successful years alongside Chef Palmer, Bryan followed his dreams of opening his own restaurant. He is the now executive chef and owner of six award-winning restaurants including VOLT, Family Meal, RANGE, Lunchbox, and AGGIO located in 2 locations.
The James Beard Foundation Award winner partnered with Williams-Sonoma and his brother Michael to bring their culinary visions to life in a cookbook called VOLT.Ink. Most recently, Bryan produced his first solo cookbook, HOME, which brings a playful approach to classic dishes inspired by farm-to-table cooking. Bryan also has collaborated with the internationally renowned Flying Dog Brewery to create Backyard Ale, complete with a signature label featuring a portrait of the beloved chef.
As a loving father and celebrity chef, Celebrity Chef Speaker Bryan is a passionate philanthropist and continuously supports the Share Our Strength organization in their fight against childhood hunger. Over the last five years, Bryan has raised over half a million dollars through meals for achievement, innovative breakfast programs and the national No Kid Hungry campaign.