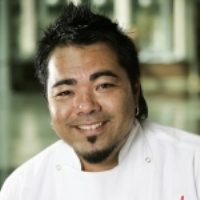 Katsuya Fukushima
Does Virtual Events:
TV Show: No
Cookbook: No
Restaurant: Yes
Cuisine: Asian, Molecular Gastronomy
Fee Range: $10,000 – $20,000

Instrgram Followers:

TikTok Followers:
Biography:
Celebrity Chef Speaker Katsuya Fukushima is a math wiz who has used his college degree to shake up the culinary world through molecular gastronomy. His journey is a true inspiration and testimony of hard work and brains that not every ordinary chef has.
Katsuya was a double major in math and art but he knew while in college he was destined to chef. He enrolled at L'Academie de Cuisine in Gaithersburg, Maryland and never looked back. Chef Katsuya worked several line cook jobs within the next few years; one being Cashion's Eat Place under the guidance of Ann Cashion. Soon after his work for her he decided to fully devote himself to Jaleo, a tapas bar in Bethesda. After working at Jaleo for 3 years he assisted the esteemed owner and celebrity chef  Jose Andres in opening Café Atlantico where Katsuya was offered the chef de cuisine position.
His experience as Jaleo's chef de cuisine gave Katsuya a presumable amount of freedom in how he wanted to prepare the menu. Chef Katsuya then began to unlock the wonders of molecular gastronomy. The term refers to new and inventive way of using science to aid your cooking. Katsuya was even recognized by Bon Appetit magazine as being the "pioneer" of molecular gastronomy.
In 2010 Katsuya competed against Jose Garces on Iron Chef: America in the battle of Mahi Mahi; he won with ease. Since then Katsuya has made several appearances on cooking shows such as Meet the Chef, No Reservations, and Gourmet's Diary of a Foodie. He recently opened his own restaurant in Washington. D.C. in 2013 named Daikaya. Daikaya features a highly personal and hand crafted menu that reflects all of Katsuya's dreams and experiences.
When he is not in the kitchen, Katsuya enjoys volunteering at fundraisers and making appearances and speeches at local colleges. His two most noted appearances are at Alex's Lemonade Stand and Autism Speaks. He also recently spoke with students at the College of William and Mary about hopes and aspirations and where they can take you if you work hard.