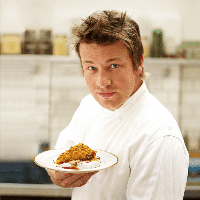 Jamie Oliver
Does Virtual Events:
TV Show: Yes
Cookbook: Yes
Restaurant: Yes
Cuisine: Garden to Table, Healthy, Italian
Fee Range: $100,000+

Instrgram Followers:

TikTok Followers:
Biography:
British celebrity chef and media personality Jamie Oliver is known for his food-focused television shows, cookbooks, and his fight against the use of processed foods in national schools. His goal is to help improve the unhealthy diets and poor cooking habits in the UK and the US. He has published seventeen cookbooks, and his television programs are aired in over 40 countries. As a proponent of fresh organic foods, Oliver was named the most influential person in the UK hospitality industry. He briefly dropped to second on the list just behind fellow celebrity chef Gordon Ramsay but in July 2010, Jamie Oliver was able to regain this title.
In 1997, Jamie was offered his own television show called The Naked Chef. The basis of the show was to use all organic foods to only use the best ingredients. Due to the great success of the first season of the show, The Naked Chef cookbook soon followed and became an instant bestseller. A second and third season of the show was filmed, each season accompanied by a cookbook published by Oliver. His next TV series Jamie's Kitchen came next and became one of the biggest hit shows in the UK. The show followed a training restaurant, started by Oliver, for young people to learn how to cook. The restaurant won the Tatler Best Restaurant Award and the Academy Award of Excellence.
Motivated by the lack of nutrition in UK school lunches, Jamie Oliver strived to educate and motivate kids and administrators to enjoy and eat more nutritious food. He launched a national campaign called Feed Me Better, which ultimately led to the British government to further invest in school meals as a result of the campaign findings.
Cooking demonstrations, endorsements, personal appearances, PR campaigns, speaking engagements, hire, book, we represent, contact, find celebrities, chefs and agents for Jamie Oliver. If you want to find the representation, PR firm, marketing company, corporate consulting, speaking agent, to book or hire Jamie Oliver, Celebrity Chef Network is the agency of corporate consulting for your program. Our booking agents are the best in the business for consulting companies, agencies and universities in finding fees, availability and interest for celebrity chefs like Jamie Oliver for any type of event, appearance, speaking engagement, endorsement, corporate event, motivational speech, PR campaigns, etc. Call Celebrity Chef Network at 212-410-9879 or email booking@celebritychefnetwork.com.  Our booking agents are here to help you hire your Celebrity Chef now.