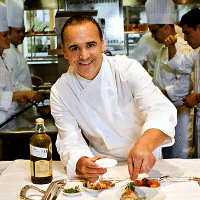 Jean Georges Vongerichten
Does Virtual Events:
TV Show: Yes
Cookbook: Yes
Restaurant: Yes
Cuisine: Classical French
Fee Range: $20,000 – $50,000

Instrgram Followers:

TikTok Followers:
Biography:
French executive chef and restaurateur Jean Georges Vongerichten has not only become one of the industry's most successful restaurateurs, but his overarching influence helped develop the style of nouvelle cuisine in America. Celebrity chef Jean currently owns and has a hand in operating restaurants in places such as Las Vegas, London, Paris and several hit restaurants in his current home town of New York City.
As a prominent trailblazer in the culinary world, Jean studied the culinary arts in France, Asia, Singapore and Hong Kong where he developed his style of adding a unique and exotic twist to everyday cuisine. In 1986 he became the executive chef at Lafayette in New York and would earn the restaurant 4-stars from the New York Times at just 29 years old. He opened his first venture JoJo in 1991 and the restaurant earned the title of Best New Restaurant of the Year. He opened his prize restaurant Jean-Georges in 1997 in the Trump International Hotel and Tower. Esquire magazine would later crown him Chef of the Year and the restaurant is 1 of only 7 in NYC to be awarded 3 stars by the Michelin Guide. His other restaurant ventures around the world include places like J&G Steakhouse and Thai-inspired French cuisine spot Vong.
Jean has published a total of 5 cookbooks and his first book title Simple Cuisine: The Easy, New Approach to Four-Star Cooking released in 1991. Fellow culinary industry giant Mario Batali claimed the cookbook was considered the go-to book for up and coming chefs looking to perfect their craft when he entered into the New York food scene in the early 1990's. His second cookbook titled Jean-Georges: Cooking at Home with a Four-Star Chef won the 1999 James Beard Foundation Award for Best Cookbook. His most recent cookbook was released in 2011 and was titled Home Cooking with Jean-Georges. The world-renowned chef has also made appearances on many popular TV programs over his many years of work in the industry. The chef has appeared on major news programs such as Good Morning America and The Today Show as well as appearances on the Food Network and Late Night with Jimmy Fallon.
Cooking demonstrations, endorsements, personal appearances, PR campaigns, speaking engagements, hire, book, we represent, contact, find celebrities, chefs and agents for Jean Georges Vongerichten. If you want to find the representation, PR firm, marketing company, corporate consulting, speaking agent, to book or hire Jean Georges Vongerichten, Celebrity Chef Network is the agency of corporate consulting for your program. Our booking agents are the best in the business for consulting companies, agencies and universities in finding fees, availability and interest for celebrity chefs like Jean Georges Vongerichten for any type of event, appearance, speaking engagement, endorsement, corporate event, motivational speech, PR campaigns, etc. Call Celebrity Chef Network at 212-410-9879 or email booking@celebritychefnetwork.com.  Our booking agents are here to help you hire your Celebrity Chef now.