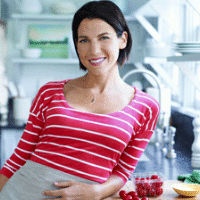 Jessica Seinfeld
Does Virtual Events:
TV Show: No
Cookbook: Yes
Restaurant: No
Cuisine: Healthy
Fee Range: $50,000 – $100,000

Instrgram Followers:

TikTok Followers:
Biography:
Jessica Seinfeld is the renowned author of 3 cookbooks that focus on providing healthy food alternatives to kids. Although married to the well-known comedian Jerry Seinfeld, Jessica has created a name for herself by penning her ideas and real life experiences in convincing her kids to eat healthy foods. In 2010, she launched her own website called Do It Delicious, which provides the basic home cook with personal home videos and step-by-step instructions as well as recipes, shopping and kitchen guides. Outside of her culinary world, Jessica also started the Baby Buggy organization which works alongside community-based organizations to designate gently used baby items to new families in need.
After diligently working with her Baby Buggy organization since its inception in 2001, Jessica published her first cookbook in 2007 titled Deceptively Delicious, Simple Secrets to Get Your Kids Eating Good Food along with help from nutrition expert Joy Bauer. The book sold over 2 million copies and details the simple ways to enhance recipes that all kids love such as mac and cheese and brownies with vegetable purees to generate a healthy alternative without the kids suspecting anything different. The book boasts a forward from Dr. Roxana Mehran and Dr. Mehmet Oz and was featured on The Oprah Winfrey Show before becoming the #1 seller on Amazon.com and the New York Times Best-Seller list. The second cookbook, Double Delicious! Good, Simple Food for Busy, Complicated Lives, builds on more of the same tricks to creating healthy classic recipes that the whole family can enjoy.
Her most recent work comes in the form of her third cookbook titled The Can't Cook Book: Recipes for the Absolutely Terrified! which is meant to act as a lifeline for inexperienced cooks who face what can become a very stressful time in the kitchen. The book highlights over 100 recipes that are accompanied by easy step-by-step guides and 26 how-to videos that can be streamed on a laptop, phone, or tablet.
Cooking demonstrations, endorsements, personal appearances, PR campaigns, speaking engagements, hire, book, we represent, contact, find celebrities, chefs and agents for Jessica Seinfeld. If you want to find the representation, PR firm, marketing company, corporate consulting, speaking agent, to book or hire Jessica Seinfeld, Celebrity Chef Network is the agency of corporate consulting for your program. Our booking agents are the best in the business for consulting companies, agencies and universities in finding fees, availability and interest for celebrity chefs like Jessica Seinfeld for any type of event, appearance, speaking engagement, endorsement, corporate event, motivational speech, PR campaigns, etc. Call Celebrity Chef Network at 212-410-9879 or email booking@celebritychefnetwork.com.  Our booking agents are here to help you hire your Celebrity Chef now.