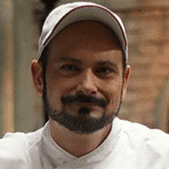 Jim Coleman
Does Virtual Events:
TV Show: Yes
Cookbook: Yes
Restaurant: No
Cuisine: American
Fee Range: $20,000 – $50,000

Instrgram Followers:

TikTok Followers:
Biography:
Celebrity speaker, Jim Coleman, dubbed the spatula-wielding king of all media, is a pioneer in the new breed of chef/entrepreneurs in America today. Combining culinary skills with business, Chef Coleman is one of the few chefs to master all three forms of multi-media: television, radio and print.  First on Chef Coleman's list of professions is his day job working as executive chef for the AAA Five-Diamond Rittenhouse Hotel in Philadelphia. Coleman has held this position with the hotel, known for hosting numerous celebrities, politicians, and special events, since 1992.  When he's not cooking for A-listers at the Rittenhouse Hotel, Coleman can be found hosting his radio show A Chef's Table, which broadcasts all over the country via National Public Radio, and features conversations with nationally recognized chefs, authors, and food personalities. In addition to hosting a radio show, Chef Coleman also hosts a television series. What started as a local show, Flavors of Philadelphia, quickly became a national, Flavors of America, after just two seasons.  Currently Flavors of America airs in 40 million homes throughout the country.  In between his two shows and day job as a chef, Coleman has been able to become an accomplished author. He has published two cookbooks, Flavors of America, and The Rittenhouse Cookbook: A Year of Seasonal Heart-Healthy Recipes, which have both become widely successful.  To add to Chef Coleman's repertoire, he has made a name for himself as an accomplished entrepreneur with his own line of gourmet mustards and ketchups called the Chef's Table, which can be found on tables across the country.  Additionally, he is a partner, and star, in the Gourmet Video Company, a brand that produces a series of cooking videotapes.
Outside of the Kitchen and his entrepreneur endeavors, Chef Jim Coleman is a proud graduate of The Culinary Institute of America and Madeline Kamman's Beringer School of American Chefs. After growing up in Dallas, Texas, Chef Coleman has had the pleasure of traveling the world for his career, from California to China. Currently, the successful chef and businessman lives in New Jersey with his wife, two children and two dogs.
Cooking demonstrations, endorsements, personal appearances, PR campaigns, speaking engagements, hire, book, we represent, contact, find celebrities, chefs and agents for Jim Coleman. If you want to find the representation, PR firm, marketing company, corporate consulting, speaking agent, to book or hire Jim Coleman, Celebrity Chef Network is the agency of corporate consulting for your program. Our booking agents are the best in the business for consulting companies, agencies and universities in finding fees, availability and interest for celebrity chefs like Jim Coleman for any type of event, appearance, speaking engagement, endorsement, corporate event, motivational speech, PR campaigns, etc. Call Celebrity Chef Network at 212-410-9879 or email booking@celebritychefnetwork.com.  Our booking agents are here to help you hire your Celebrity Chef now.