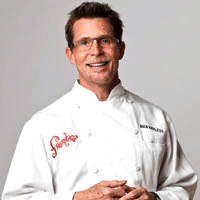 Rick Bayless
Does Virtual Events:
TV Show: Yes
Cookbook: Yes
Restaurant: Yes
Cuisine: Mexican
Fee Range: $50,000 – $100,000

Instrgram Followers:

TikTok Followers:
Biography:
Rick Bayless is an American chef with a Mexican style. The television host, restaurateur, and author began studying cooking and the culinary arts at quite the young age, hosting his own television show on PBS, Cooking Mexican, by age 25. Today, Bayless continues to host his public television series Mexico: One Plate at a Time for which he received a Day Time Emmy Nomination for Outstanding Lifestyle/Culinary Host in 2012.
He received both his bachelor's degree and master's degree, and spent 6 years in Mexico shortly following to refine his Mexican cooking style. After moving back to the United States, Rick and his wife Deann opened Topolobampo, the first upper-scale Mexican style restaurant in the country. Since then, Rick Bayless has opened many other restaurants that specialize in contemporary Mexican cuisine including Frontera Grill which was named third-best casual dining restaurant in the world by the International Herald Tribune.
Rick Bayless tested his cooking skills as he competed with Chef Bobby Flay on "Iron Chef America" in 2005. While he lost to Bobby Flay by a mere point, his cooking career flourished as he competed in "Top Chef Masters" and won the title of Top Chef Master in 2009. Rick's Mexican cooking style has garnered attention around the world, and even the White House has considered hiring him as an executive chef.
Along with his award winning restaurants and TV series, Rick Bayless has also been writing cookbooks since the beginning of his culinary career. His most recent book, Fiesta at Rick's, made the New York Times Best Sellers list for several weeks after its release in 2010.
Cooking demonstrations, endorsements, personal appearances, PR campaigns, speaking engagements, hire, book, we represent, contact, find celebrities, chefs and agents for Rick Bayless. If you want to find the representation, PR firm, marketing company, corporate consulting, speaking agent, to book or hire Rick Bayless, Celebrity Chef Network is the agency of corporate consulting for your program. Our booking agents are the best in the business for consulting companies, agencies and universities in finding fees, availability and interest for celebrity chefs like Rick Bayless for any type of event, appearance, speaking engagement, endorsement, corporate event, motivational speech, PR campaigns, etc. Call Celebrity Chef Network at 212-410-9879 or email booking@celebritychefnetwork.com. Our booking agents are here to help you hire your Celebrity Chef now.