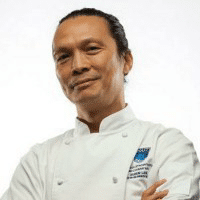 Susur Lee
Does Virtual Events:
TV Show: Yes
Cookbook: Yes
Restaurant: Yes
Cuisine: Fusion
Fee Range: $10,000 – $20,000

Instrgram Followers:

TikTok Followers:
Biography:
Hire Susur Lee through Celebrity Chef Network. Booking a celebrity chef requires an expert team. Let the booking agents at Celebrity Chef Network help you hire the best one for your brand or event. To contact Celebrity Chef Network, call 212-410-9879 or email booking@celebritychefnetwork.com.
NETWORKS: Bravo, Food Network
SHOWS: Top Chef Masters, Iron Chef America
CHARITIES: James Beard Foundation in Kansas City and Santa Fe, cancer research at Spinizolla in Boston, Null Foundation, Jewish National Fund, Daniel Nestor Charity Event (in Toronto)
BIO: Celebrity Chef Susur Lee is one of the world's foremost culinary authorities in Asian inspired and Asian fusion cuisine. From his humble culinary beginnings as a 15 year-old apprentice in Hong Kong's swell-egant hotels, to his position as one the cooking world's most sought after chefs, Chef Lee has maintained his passion to "explore beyond the horizons of received culinary knowledge, and to create unique, sublime compositions for the palate that blend textures and flavors in sensuous harmony."
Ever since his first restaurant, Lotus, which opened in Toronto in 1987, Chef Lee has been regarded as a culinary master. The 12-table Lotus immediately captured the taste buds of customers and thrilled critics alike. Courvoisier's Book of the Best proclaimed Lotus the finest restaurant in the country and Chef Susur Lee as a leading young Toronto chef. Zagat even went so far as to call Lee "a culinary genius."
After a decade of working at Lotus, Chef Susur Lee decided to travel to Asia for a "re-energizing" period. During the next three years abroad, Chef Lee served as head chef for the exclusive Club Chinoise in Singapore and consulted to the Tung Lok Group. He improved the menus of 17 restaurants, launched new restaurant ventures and oversaw 45 chefs make return trips to Toronto. When Lee himself decided to return to Toronto, he had plans to open up a new kitchen in the hip downtown neighborhood of Toronto's King Street West. His new expansive gastro-dome restaurant, Susur, immediately garnered praise from critics and sterling reviews from publications such as Food & Wine magazine. The publication even went so far as to name Chef Susur Lee one of the "Ten Chefs of the Millennium."
More recently, Chef Lee has cooked for the Princess of Thailand, competed on Iron Chef America, manned the grill as "guest chef" at Charle Trotter's, The Four Seasons Atlanta, Ken Oringer and Ming Tsai, and was a recent participant at the "Master of Food and Wine" festivel in Carmel, California. Susur has also appeared on Bravo's Top Chef Masters television series. Additionally, he has opened a sister restaurant, entitled "Lee," to match his already wildly popular kitchen, "Susur." The restaurants are located right next to each other and compliment them perfectly.
When he is not splitting time working at restaurants or festivals, Celebrity Chef Susur Lee makes numerous appearances on Food Network, guest lectures all over the world and contributes to charity projects such as the James Bear Foundation, cancer research and the Null Foundation, which provides scholarships for underprivileged students to attend cooking schools. Celebrity Chef Susur Lee is available for speaking engagements, endorsements, and cooking demonstrations.
ENDORSEMENTS: Kraft
BOOKS: Susur: A Culinary Life
WHO REPRESENTS Susur Lee: Celebrity Chef Susur Lee can be hired for endorsements and events in roles such as culinary consultant, event planner, public speaker, autograph signings, cooking demonstrations, hosting, Mommy Blogger events, SMTS, public relation campaigns, team building events and corporate hospitality.
To hire Susur Lee for an endorsement, personal appearances, or book signing contact the experts at Celebrity Chef Network at booking@celebritychefnetwork.com  or 212-410-9879.