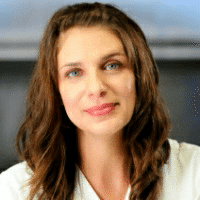 Vivian Howard
Does Virtual Events:
TV Show: Yes
Cookbook: Yes
Restaurant: Yes
Cuisine: Organic, Southern
Fee Range: $20,000 – $50,000

Instrgram Followers:

TikTok Followers:
Biography:
From opening a nationally recognized restaurant in eastern North Carolina to creating her own award-winning show entitled A Chef's Life, it is hard to believe that chef Vivian Howard still has time to write her two upcoming books and raise a family. Howard did not always envision herself as a renowned chef, though. In fact she originally uprooted herself from her tobacco-raising, hog-farming hometown to go to college and later move to New York City to fulfill her dig dreams in advertising.
Contrary to her high expectations though, Howard found the advertising world somewhat disenchanting compared to the vibrant cooking scene she observed in the city. Following her instincts, Howard quit advertising and became a server at the Voyage in Greenwich Village. She eventually trailed under the restaurant's chef Scott Barton, who specialized in Southern cuisine with an African twist, which allowed her to learn more about southern food and preparation. Howard said she never originally planned to prolong her journey in the culinary arts, but rather considered a career in writing for a food magazine a more viable option. As her love for the industry progressed though, she decided to attend the Institute of Culinary Education and begin her career as a chef before getting an internship as a chef at WD~50 and launching a small catering business from her house.
Despite Howard's growing success in NYC, she and her husband decided to move to Kinston, NC in 2006 where they opened their restaurant Chef & the Farmer. Cementing a strong relationship with the state's local farmers, the restaurant serves both fresh and local southern cuisine.
Although the restaurant did not thrive at first, word of the restaurant's charm and talent has made it a travel destination with an impressive turnout of both tourists and locals. Much of the restaurant's increased attendance can also be accredited to Howard's PBS show A Chef's Life, which documents the food and preparation techniques of the eastern Carolina region. Intrigued by her own unfamiliarity with local recipes of the older generations in her area, Howard hoped to find a way to preserve the many unknown cooking traditions of the past — hence her decision to create the PBS show A Chef's Life that won a Peabody Award for its impact in June 2014.
From the television screen to paper, Howard also has a two-book deals in the works as well, with her first book to be published in 2015 and the second in 2018. The first is entitled Deep Run Roots: Ingredients from My Corner of North Carolina, which is about her experience cooking in eastern North Carolina while raising a family. Her second book, however, is still under wraps.
Cooking demonstrations, endorsements, personal appearances, PR campaigns, speaking engagements, hire, book, we represent, contact, find celebrities, chefs and agents for Vivian Howard. If you want to find the representation, PR firm, marketing company, corporate consulting, speaking agent, to book or hire Vivian Howard, Celebrity Chef Network is the agency of corporate consulting for your program. Our booking agents are the best in the business for consulting companies, agencies and universities in finding fees, availability and interest for celebrity chefs like Vivian Howard for any type of event, appearance, speaking engagement, endorsement, corporate event, motivational speech, PR campaigns, etc. Call Celebrity Chef Network at 212-410-9879 or email booking@celebritychefnetwork.com.  Our booking agents are here to help you hire your Celebrity Chef now.