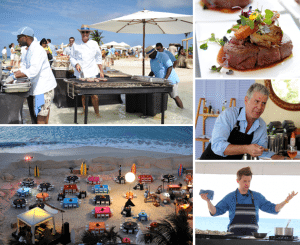 The perpetual bliss that is the Cayman Islands with its tropical climate, clear blue water, and some of the world's finest white sand will play host to its 6th annual Cayman Cookout centered at the Ritz Carlton Grand Cayman luxury resort January 16-19. Guests and a full pot of celebrity chefs and wine experts including host Eric Ripert, TV personality and chef Anthony Bourdain, and iconic Chef Jose Andres will indulge in a full menu of gourmet dishes, tastings, hands-on demonstrations and seminars.  Food and wine enthusiasts able to secure tickets for the events in culinary capital of the Caribbean will be able to mingle with some of the world's most respected chefs and Cayman's top chefs in a setting much more intimate than the standard cooking demonstration or show. What other event do you know of where you can enjoy great eats and walk up and have a beer or cocktail with your favorite culinary master? No shoes, no shirt, no problem.
The food fest began when esteemed Chef Eric Ripert, the co-owner and chef of the Michelin starred La Bernardin in New York and his AAA Five Diamond restaurant Blue located at the Ritz Carlton Grand Cayman, envisioned the intimate food and wine weekend in an unbelievably serene setting. Ripert now partners with the Ritz Carlton, Grand Cayman, and Food & Wine magazine to host events throughout the 4-day cookout including an afternoon on The Great Lawn at the Ritz Carlton with Anthony Bourdain, a Barefoot BBQ in the sand with Ripert, Bourdain, and Andres, as well as a Saturday dinner party with Andres in the Cayman's restaurant district. In the past, the island event has been graced with the presence of culinary greats such as Spike Mendelsohn and Top Chef's Richard Blais.
One of the guests and chefs' favorite events Burgers in Paradise will return with its island-style burger bonanza prefaced by a catamaran sail and snorkel at Stingray City. It will also feature master mixologist Tony Abou-Ganim pouring cocktails and fine wines for guests as they lounge in hammocks and enjoy the cool breeze during the event. The Bon Vivant Champagne Brunch and Artisan Market at the Ritz Carlton includes the annual competition for the island's top amateur chef judged by Ripert, Bourdain, and Andres. Closing out the weekend is a gala dinner at Blue that features Ripert and celebrity chefs Daniel Humm, Martin Picard, and Lidia Bastianich among others preparing scintillating dishes for the guests. The weekend is sure to be full of relaxation, savory food, and fun in the sun with the world's favorite chefs and a must on the list of any culinary enthusiast.
Contact Celebrity Chef Network today for more information on celebrity chef endorsements or to hire celebrity chefs for cooking demonstrations, endorsements, appearances and cookbook signings. Contact us through our contact form or by email: booking@celebritychefnetwork.com