If you had $10 to purchase 5 items or less could you cook a luxurious meal? How about whipping up a delicious Italian dish using canned food and some herbs? If so, maybe you should sign up as a contestant on Food Network's new reality competition show, Guy's Grocery Games. For the rest of us, well, we can still enjoy the entertainment of watching these crazy tasks when the second season of Celebrity Chef Guy Fieri's addictive cooking show premieres.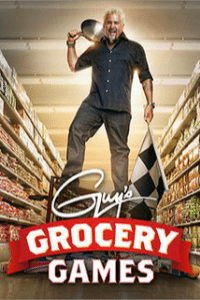 Since Fieri's first Food Network reality show in 2006, he has entertained thousands of people from a variety of backgrounds. Chef Fieri is the kind of cook you can relate to, and people appreciate his humor and laid-back style on camera. And if you're a guy who likes to watch his shows, you're not alone; his shows have attracted far more male viewers than any other series on Food Network. Fieri definitely knows how to cook, and he attributes it to being raised by tofu-eating California hippies. Since winning the second season of The Next Food Network Star, Guy has starred in various shows, including Diners Drive-Ins and Dives, Ultimate Recipe Showdown, and Minute to Win It. In addition to his cascade of television appearances, Fieri has written three books; the first two were New York Times bestsellers for over 12 weeks. Oh wait, I forgot to add that this culinary genius co-owns five restaurants in California.
Celebrity Chef Guy Fieri is one of a plethora of celebrity chefs involved in cooking competition shows. Chefs Emeril Lagasse and Tom Colicchio appear regularly on Bravo's popular cooking competition series, Top Chef. In addition to these two cooking stars, Celebrity Chefs Geoffrey Zakarian and Scott Conant will continue to appear in Season 19 of Food Network's hit show Chopped.  And who can forget Chef Gordon Ramsay yelling "This is RAW!" on Hell's Kitchen? Needless to say, there are a lot of cooking competition shows, and people really dig them. They're very entertaining and can teach you a thing or two about cooking. Whether you're a professional cook, a college kid who regularly eats Chef Boyardee and Ramen Noodles, or somewhere in between, everyone can be entertained and learn something by watching these culinary competitions. And if you are living in a household with parents like Fieri's, tuning into the next season of Guy's Grocery Games could be life-changing. Namely, it could save you from eating tofu for the rest of your life. You're welcome in advance.
Contact us through our contact form, by email: booking@celebritychefnetwork.com or call us at 888.864.4734 for more information or to hire celebrity chefs for cooking demonstrations, endorsements, appearances and cookbook signings.