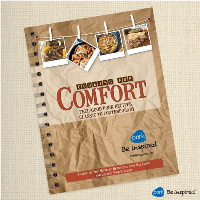 Once in a while, everyone has to have their favorite comfort food. And with the winter months right around the corner, the National Pork Board has made sure everyone is prepared for those comfort food cravings with its celebrity chef endorsement campaign coupled with their first-ever "Cooking for Comfort" e-cookbook, which provides "The Secret to Warming Up with Pork." Working with James Beard Award-winning celebrity chef Michelle Bernstein, published author and Doctor of BBQ, Chef Ray Lampe, as well as 10 leading food bloggers, The National Pork Board has created a completely free online resource with recipes, stories, photos, and videos to equip food lovers with the tools to create traditional dishes as well as more modern twists on pork. The goal with this celebrity chef endorsement and completely free online resource is for the users to "Discover all the ways you can create that quintessential feel-good dish with juicy, tender pork."
Choosing Michelle Bernstein for the celebrity chef endorsement proved to be a perfect fit as her contributions to the e-cookbook were vital, not only as an innovative chef, but also a respected name in the culinary industry. A Miami native, Bernstein is a published author with her book "Cuisine a Latina" and she let her native Latin roots shine through in "Cooking for Comfort" with recipes such as her Chorizo and Cheese Empanadas with Avocado Crema. Bernstein starred as the host of reality cooking show The Melting Pot on The Food Network and appeared in a battle on Iron Chef America against renowned celebrity chef Bobby Flay. She was even honored as a guest judge on popular reality cooking show Top Chef.
Carrian Cheney and Danica Pike are two prominent food bloggers that also contributed to e-cookbook and its selection of heart-warming meals. Each food blogger submitted two recipes, to compile a list of delicious dishes such as Carrian Cheney's Browned Butter Butternut Pork Lasagna, Danica Pike's Lazy Pork Enchiladas, Ali Ebright's Apple Cinnamon Pork Chops, and Devi McDonald's Bacon-Wrapped Pork Loin with Peach and Blue Cheese Stuffing.
Contact Celebrity Chef Network today for more information on celebrity chef endorsements or to hire celebrity chefs for cooking demonstrations, endorsements, appearances and cookbook signings. Contact us through our contact form or by email: booking@celebritychefnetwork.com