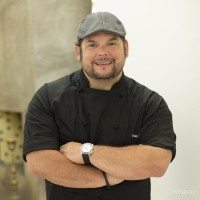 Brian Duffy
Does Virtual Events:
TV Show: No
Cookbook: No
Restaurant: Yes
Cuisine: American
Fee Range: $20,000 – $50,000

Instrgram Followers:

TikTok Followers:
Biography:
His Irish roots have helped this Celebrity Chef Speaker find his calling in creating some of the world's most delicious pub fare! Celebrity Chef Brian Duffy has revamped the gastropub scene with his tasty "New Celtic" cuisine. He has served as the executive chef in several establishments across the U.S. most notably at Kildare's Irish Pub in his hometown of Philadelphia. His hands-on experience in the restaurant business has allowed him to become a top food consultant for bars, restaurants, pubs and nightclubs. He gives advice on menu revamps as well as style and restaurant décor. Celebrity Chef Brian makes regular celebrity chef appearances on Spike TV's Bar Rescue also starring Jon Taffer and fellow celebrity chefs Tiffany Derry, Aaron McCargo, Jr. and Josh Capon.
Coming from a huge Irish-Italian family, food was very important to Brian from an early age. After refining his skills in culinary school, Brian went to work under Chef Jean Marie LaCroix at the famous Four Seasons Hotel in Philly. His entrepreneurial spirit was running wild as he began to build his own culinary creations. He partnered with a friend to open Kristopher's and soon was hired by the Dave Magrogan Group to be their corporate executive chef for Doc Magrogan's Oyster House, Harvest Season Grill and Kildare's Irish Pubs. Later, Chef Brian got the change to partner with Seafood American where he developed his own line of frozen meals.
One of Brian's first Celebrity Chef Appearances was on the Food Network's Date Plate, where everyone enjoyed his sense of humor along with his wonderfully prepared food.
Brian has also made a celebrity chef appearance on many shows featured on networks such as the DIY Network, Food Network, HGTV, and Fine Living Network. Chef Brian has been called on as a celebrity guest judge on Food Network's Beat Bobby Flay. Given his Irish roots, Brian is also an annual guest on The Today Show's St. Patrick's Day Irish cook-off.