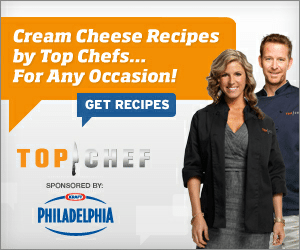 Chase Sapphire Preferred, Toyota, Kraft and Cigna amongst sponsors feasting on the Hit Show's Success!
Bravo's VP of Partnerships Jamie Cutburth has been as busy as anyone in the television integration space over the last few years.  But it seems as Bravo's marquee property grows its audience so goes its corporate marketability for integrating premiere companies and their brands, products and/or services. To this end, Cutburth and the Bravo Media staff have wrangled deals with Toyota for its Corolla line, Kraft is whipping up recipes with its Philadelphia brand Cream Cheese, Cigna's "Go You" campaign and watch contestants have the ability to watch webisodes of the Chase Sapphire Preferred credit card.
Season 11 will have many new twists and turns as the wildly successful show has season to season. This season will be especially closely watched as it's filmed in New Orleans home of iconic celebrity chefs and iron chef America Emeril Lagasse, Paul Prudhomme, John Besh and many others!   Bravo has capitalized on Top Chef's success both on screen and off.  The huge likeability of Tom Colicchio and Padma Lakshmi has fueled a surge in the show's popularity and viewership numbers. The culinary world has also viewed this show as credible and not too docu-reality for its taste buds as well. This type of instant credibility has earned the show high marks for some of the iconic chefs that have appeared as guest judges including Emeril, Anthony Bourdain, Eric Ripert, Rick Bayless, Gale Gand, Neil Patrick Harris and The Foo Fighters.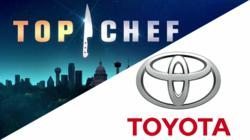 Dionne Colvin, National Media Marketing Manager of Toyota was quoted in Adweek as saying, "We've been involved basically since the inception of the show. It started out as the traditional sponsorship/product placement opportunity and has evolved into a whole-side platform program." The audience pull of affluent women is very attractive to advertisers. Toyota has integrated into car giveaways, webisodes and also the Top Chef app!
Bravo has done a great job of integration both on and off line. The Bravo Top Chef "prequel" which follows the show's casting process hosted by Padma Lakshmi and branded by Cigna has become a real fan favorite. Bravo has clearly learned from others but puts its own stamp on the Top Chef franchise and its sponsor integrations.
Contact us through our contact form or by email: booking@celebritychefnetwork.com for more information on sponsor integrations or to hire celebrity chefs for cooking demonstrations, endorsements, appearances and cookbook signings.