Is Iron Chef America on the verge of getting chopped?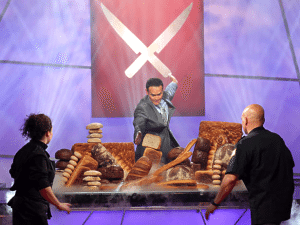 Allez Cuisine! Alakazam? After a 9 year run of heroic culinary displays it is rumored that Food Network is doing away with the popular cooking competition series Iron Chef America. The network has only aired 2 new episodes this year and are refusing to let on more about the future of the show. Iron Chef America has become like the Olympics of the culinary world, only broadcast one hour at a time and pitting some of the world's most brilliant celebrity chefs against each other in a true battle royal of gastronomic proportions. Instead of Bob Costas narrating the action, Alton Brown and his trusty sidekick Kevin Brauch work the floor and helped narrate viewers through the preparations being done by the chefs and their on-hand staff.
Some of today's most recognizable celebrity chefs and TV personalities have cushioned their careers by becoming Iron Chefs and competing on the show including Michael Symon, Mario Batali, Masaharu Morimoto and Jose Garces. Other well-known chefs have also had their shot at challenging the Iron Chefs on the show with superb performances by the likes of Ming Tsai, Todd English, Michelle Bernstein and Richard Blais. Could it be that Food Network has simply diluted the excitement of ICA with their cornucopia of other competition series? Maybe, but there are plenty of dramatic moments from seasons past that render this show a true food TV gem. Who could forget Bobby Flay's slew of incredible dishes and competition-leading 43-16 record in the Kitchen Stadium, or the offal cooking chef Chris Cosentino and his wacky yet surprisingly delectable ingredients of squab brains and talons. Wolfgang Puck did it the right way, he one and done'd the whole shindig. He won the only Iron Chef America competition he cooked in, defeating Masaharu in the very first mini-series of the show before it fully evolved into what it is today. Today Wolfgang has over 23 fine dining restaurants around the world and is a true international celebrity chef sensation.
Geoffrey Zakarian is a familiar face from Food Network's hit series Chopped where he judges the dishes of amateur chefs with help from the likes of Scott Conant, Chris Santos, and Marcus Samuelsson. His tenure as an Iron Chef on the show since 2010 has been a welcomed addition to the competition. Alex Guarnaschelli went from taking on Cat Cora in an Iron Chef America challenge to becoming part of Zakarian's prep team and eventually earning the title of Iron Chef herself by defeating Amanda Freitag in season 5 of The Nest Iron Chef. Still others have gotten into the action and gained notoriety from the show including Marc Forgione, Robert Irvine, and Angelo Sosa who appeared on the most recent episode in March.
The one leg-up this show still has on all the new competition series is the marquee names. It's a way different viewing experience for the audience and the end result when two industry leading chefs are going at it instead of two up and coming amateur chefs. The problem however is that maybe audiences are connecting better with the amateurs because they feel like they could achieve the same level of kitchen mastery in their own kitchens instead of only watching in awe while the pros do it. Whether the network decides to cancel the show or not, Iron Chef America is a staple for a network that has rose to become a TV powerhouse in the last decade and the heated battles in the Kitchen Stadium will live on through YouTube and syndication.
Contact Celebrity Chef Network today for more information or to hire iron chefs for cooking demonstrations, endorsements, appearances and cookbook signings. Contact us through our contact form or by email: booking@celebritychefnetwork.com.